What is an ATV? This question is on everyone's mind, and if you also think of that, you don't need to worry so much.
Like other vehicles, ATV also has different definitions, types and safety precautions.
Especially off-road enthusiasts often want to know what an ATV means or what an all-terrain vehicle means, so that's why we will know everything about ATVs here. So, let's dive right in:
What Is An ATV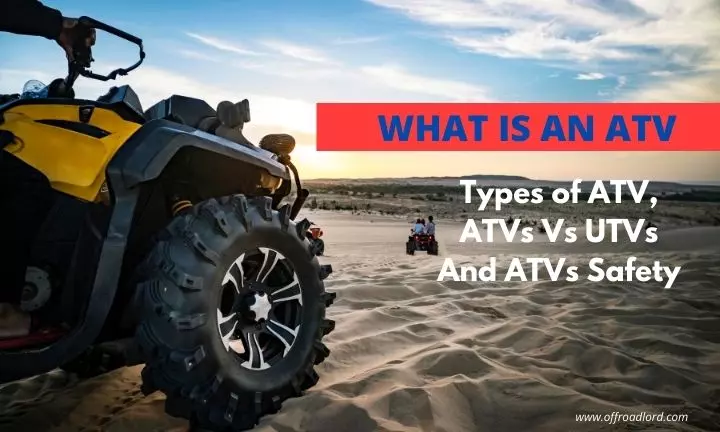 ATV stands for all-terrain vehicle, and ATV is also known as "Quad" or "Four Wheeler". ATV specializes in off-roading, and it has straddle/motorcycle-style seating and handlebar steering. An all-terrain vehicle (ATV) is designed to travel through many terrain conditions. ATV manufacturers make two types of ATVs: solo ATV or single operator, and the other one is with a passenger sitting behind the ATV operator.
All-terrain vehicles (ATVs) run on low-pressure tires and have more than two wheels. ATVs vary on ATV operator age because ATV manufacturers design all-terrain vehicles by riders age.
Different ages for different ATVs are recommended like A youth model ATVs are only designed for youth, not for adulthood, because youth model ATVs are designed for smaller hands and feet.
ATVs come up with various modifications and customization, but all ATVs have the same main three features: handlebar position, seating position, able to ride through any terrain conditions.
Related: 10 Biggest Four-Wheelers
ATV Features
See all the features that an ATV has:
ATVs Steering
ATVs use direct link electric power steering (EPS) because an electric motor assists the ATV operator to turn the wheels.
Before direct link electric power steering, ATV manufacturers used manual steering, but now all ATVs manufacturers use electric power steering (EPS) for steering.
Electric power steering is way better than manual steering because it's more efficient and easy to handle.
Wheels And Tires
All-terrain vehicles (ATVs) are specially made for off-road riding and any type of terrain condition; that's why ATVs tires are different from your normal vehicle.
All-terrain tires can go through light mud, rocks, water, and sand because ATV tire manufacturers now use more advanced technology, primarily American ATV tire brands.
Different types of ATVs tires are made for specific road conditions. For mud, you need to use ATV mud tires; for sports, you need to use ATV racing tires; and for sand areas, you must use ATV sand tires.
Most ATVs have 12 inch and ATV rims are much wider than car tires. ATVs wheels are identified by the numbers.
To measure ATVs tire size, you have to understand wheels diameter, width, height and offset.
Handling
Whereas ATVs specialize in various terrain conditions, that's why ATVs handling has to be more efficient.
Different types of ATVs use different handling, so ATV operators can handle them more conveniently.
Utility ATVs handling is different from Youth ATVs, So ATV handling depends on the category of ATVs.
Speed
ATVs are not only capable of going through any terrain condition, but they are also fast. ATVs manufacturers upgrade old ATVs ' speed limitations and make them fast enough.
Sports and Utility ATVs are the fastest all-terrain vehicles (ATVs); a Utility ATV can reach 128 kilometers in an hour or 80mph.
But, Youth ATVs have a speed limit because Youth ATVs are for kids. The speed of Side-by-Side (SxS) ATVs is not like Sports ATVs because Side-by-Side (SxS) ATVs are used for carrying passengers.
ATVs Seating and Passenger Capacity
Most ATVs are made for only one rider that is an ATV operator. And also, there are some ATVs with two seats, where an ATV operator and one passenger can sit.
Youth, Sports and Utility ATVs have only one seat; only ATV riders can sit and ride. But, Side-by-Side (SxS) ATVs have four seats, and Side-by-Side (SxS) ATVs are capable of carrying four passengers.
Braking System
Brakes for ATVs are mainly of two types: disc brakes and drum brakes. Recent all-terrain vehicles (ATVs) are now using disk brakes. But drum brakes are still used for ATVs. ATV's braking systems work just like other vehicles.
When an ATV operator activates the hand lever or foot pedal, the brake fluid is squeezed into the brake lines, and then brake lines activate the brake piston.
ATVs Acceleration
Nowadays, most ATVs manufacturers use thumb throttle, so your ATVs have thumb throttle acceleration. The thumb throttle needs to operate by the ATV rider's thumb.
When you push down the thumb throttle, it will spring load a thumb-size paddle to engage the motor in your ATVs.
ATVs acceleration system is also customizable so, if you want to use twist throttle, you can use that on your ATVs.
History Of ATVs Development
Royal Enfield was the first manufactured and sold powered quadricycle in 1839, but it was designed for horseless carriage for road use.
For the future potential of All-terrain vehicles, a group of college students designed a three-wheeled ATV or Tri-cartin in 1967.
When Honda entered the automobile industry, they first launched a sit-on type straddle-ridden three-wheeled ATVs.
After Honda, Suzuki was the leader in developing four-wheeled ATVs and started mass production all over the world. The all-terrain vehicles started getting new looks, new features and safety components from the 1980s.
Later on, many manufacturers of ATVs started to develop with updated components and employ some advanced features. Even ATVs manufacturers start making six-wheel all-terrain vehicles for special use.
Now ATVs are available all over the world, no matter where you are going. Suzuki, Yamaha, Honda and Kawasaki are the most famous manufacturers for ATVs.
And in the United States, companies like Polaris, Can-Am, Arctic Cat and Tracker Offroad manufacture ATVs for Americans.
Different Types of ATVs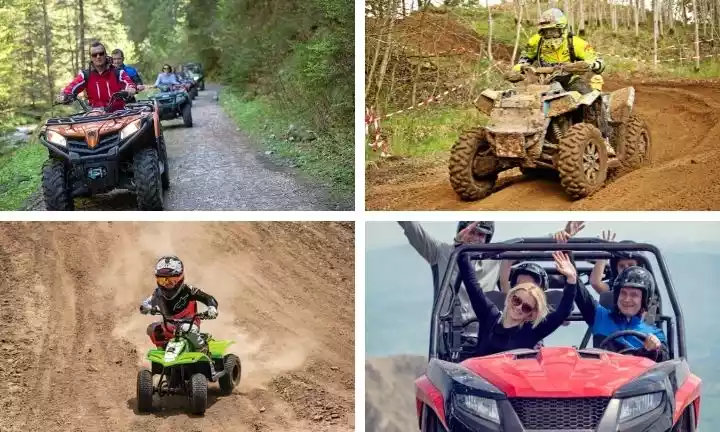 There are mainly four types of ATVs available on the market right now. Every type of ATV or All-terrain Vehicles is made for one specific category; some ATVs are designed only for off-road racing, some for hunting and more.
That's why you have to know all the different types of ATVs and select what type you need before purchasing ATVs.
Here are different types of ATVs:
Sport ATVs
Utility ATVs
Youth ATVs
Side-by-Side (SxS) ATVs
1. Sport ATVs
Sport ATVs are designed for off-roading sports, so sports ATVs are lightweight, more responsive and also faster than other ATV types.
Sport ATVs need to be quicker because of sports competition. A powerful engine, long travel suspension, and easy handling make sport ATVs more famous.
2. Utility ATVs
Utility ATVs are used for heavy work like plowing fields, snow and towing. Utility ATVs are also durable and powerful because of their use, but utility ATVs are not that fast as sport ATVs.
3. Youth ATVs
As you can guess, Youth ATVs are for youth. Children more than 4 years old can ride youth ATVs. Youth ATVs have no power like other types of ATVs, and youth ATVs suspension is not that great.
A Youth ATV is not for older people, and do not try to ride a youth ATV if you are an adult because youth ATVs weigh not more than a hundred pounds. Youth ATVs are only for children.
4. Side-by-Side (SxS) ATVs
Side-by-Side (SxS) ATVs are bigger than other types of ATVs. Side-by-Side (SxS) ATVs are also powerful and durable like Sport ATVs.
Side-by-Side ATVs have four seats, two seats at the front and two at the back. Just like cars, you can carry passengers on Side-by-Side (SxS) ATVs. Side-by-Side (SxS) ATVs are used for off-road travel and sightseeing.
What ATVs Are Used For
ATVs are used for work and also for recreation. All-terrain vehicles (ATVs) are quicker, lightweight, and narrower, so ATVs can carry you no matter what type of reading is going.
Nowadays, the use of ATVs is gradually increasing for its continent handling and more. Different types of ATVs are available in the market, and every type of ATV has a different capacity.
ATVs are used for sport; you might see people riding ATVs off-road on TV. For sports they use Sports ATVs which are specially made for sports.
Side-by-Side (SxS) ATVs are used for off-road travel because they can carry several people. And even for kids, there are ATVs available, and Youth ATVs are for children and Youth ATVs only for kids because Youth ATVs are small and less powerful.
So, if you love to see nature, you can go to any ATV trail with an ATV. Now, ATV tours are trending; many tourist places offer their tourist ATV tours to give them extreme adventure experiences.
Cost Of ATVs
For off-roading, ATVs or UTVs are the most common vehicles. But, when it comes to the cost of off-roading vehicles, ATVs are more budget-friendly than UTVs.
You can buy ATVs for a few thousand dollars or the highest fifteen thousand dollars. As you know, there are different types of ATVs, so the price of ATVs will be different by ATVs category.
But, well-maintained and modernized ATVs are expensive because it's updated technology. So, before you buy any type of ATV, you should check your budget properly.
You will also need to make a budget for ATVs safety equipment and ATVs insurance with ATVs.
ATV Safety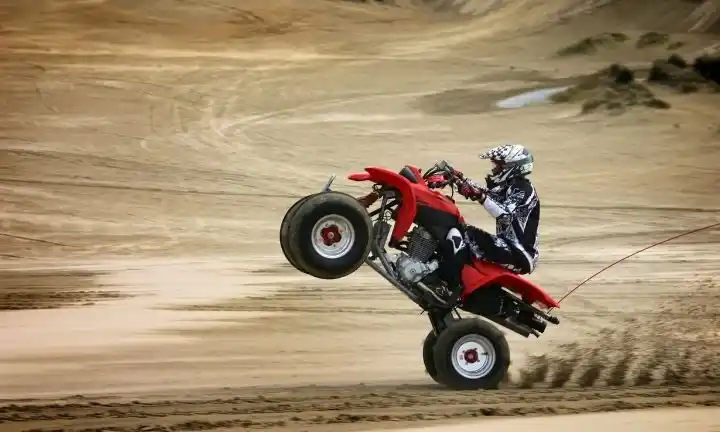 The essential thing you should know to ride ATVs is Safety. More than a hundred thousand individuals are injured in accidents nationwide every year; that's why you should be careful when it comes to ATV safety.
To ride ATVs, you have to maintain some safety procedures. Here are ATV safety rules:
Never Ride-on Paved Roads.
Wear a DOT-compliant helmet.
It's Always Recommended to Wear Long Sleeves.
Wearing Gloves Is Must.
High Ankle Boots.
Wear Good Quality Goggles.
Long Pants.
Ride Only During Daylight.
What Does ATV Insurance Cover
If you want to buy an ATV, you should consider ATV insurance. There are many things ATVs insurance covers. So, let's see what ATV insurance covers:
Comprehensive: ATV insurance will pay for your ATV theft, accidents, vandalism.
Bodily injury liability: By your ATV, if someone gets hurt or injured, the insurance will pay their medical bills.
Underinsured motorist: Underinsured motorist is covered by the cost of an accident from drivers who do not have insurance cover.
Property damage liability: if you cause an accident, insurance will pay for another person's property.
Medical payments coverage: insurance will help cover medical payments for your accident. This is also known as Personal Injury Protection (PIP).
ATV insurance coverage depends on state laws. That's why before buying an ATV, you should check the ATV insurance policy in your area.
Top ATV Brands
Automobile and motor companies both make all-terrain vehicles (ATVs). Japanese, American and Chinese ATV brands are producing ATVs all over the world. And top ATV manufacturers are also bringing innovation in the off-roading vehicles industry. So, let's see the top ATV brands in the world:
1. Yamaha
Yamaha is a very popular name in the motor industry, and I'm sure you have heard this brand's name.
Yamaha is a Japanese ATV brand and a massive producer of ATVs in the US and all over the world. Yamaha's ATV has a great reputation because of its durability.
Yamaha The Big Bear 350 was the first ATV from Yamaha in 1987, and still, now Yamaha makes ATVs and UTVs both.
2. Honda
Honda is well known for both cars and motors all over the world. Honda first made an ATV in 1984, and the first Honda ATV name was The TRX200.
Before making four-wheel ATVs, Honda company made a three-wheel all-terrain cycle (ATC) in 1970, and the name was ATC90.
3. Kawasaki
Although Kawasaki is more famous as a motor company, Kawasaki also has ATVs. Kawasaki is also a very popular brand for its ATVs and UTVs, and this company still makes all-terrain vehicles. If you are looking for a decent and beginner-friendly ATV, you should check Kawasaki ATVs.
4. Polaris
From 1985, Polaris has been making off-road vehicles. Polaris is an American ATV brand. Trail Boss was the first ATV from Polaris, and The Trail Boss is considered as the first American-made all-terrain vehicle (ATV).
Polaris made some top UTVs and ATVs that are still popular all over America. Polaris not only makes the best ATVs, their off-roading vehicles are also budget-friendly. 
5. Can-Am
If you are talking about the fastest ATVs and UTVs, you will hear the Can-Am name many times because the Can-Am brand is popular for making the fastest ATV in the world.
Can-Am stands for Canadian-American, and this company makes the ATVs some of the fastest and best ATVs in the world. Can-Am makes every type of off-road vehicle, and in 1998, they started thinking about all-terrain vehicles.
Can-Am is a Canada based ATV manufacturer Any type of ATVs you need Can-Am makes that type, Whether you want Utility or Sport ATVs.
What Is The Difference Between ATV And UTV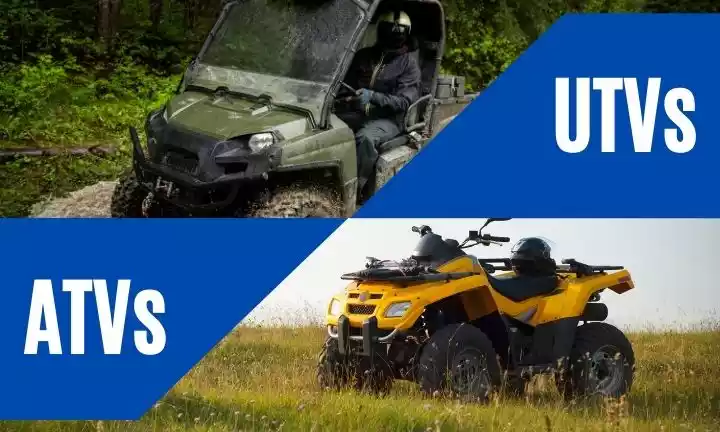 Both ATV and UTV are off-roading vehicles, but both are not the same. Although ATV and UTV have many things in common, various things are completely different; that's why you can not say ATVs and UTVs are the same.
In various ways, you can differentiate the ATV and UTV, such as size, use, steering, seating and price. So, let's see the difference between ATV and UTV:
Difference in Size
Both ATV and UTV can go through any terrain condition. ATVs are smaller than UTVs because UTVs are able to carry two or four passengers. ATVs manufactured made ATVs are for only one person who is an ATV operator.
Seating Position
The seating positions of ATVs and UTVs are completely different. To sit on an ATV, you need to straddle the seat, but UTV has bucket seats. UTV seats are more comfortable than ATV seats.
Steering
Steering the difference between ATV and UTV is what differentiates ATVs and UTVs. ATVs have handlebars to steer just like bikes; on the other hand, UTVs have steering wheels just like cars.
Used For
For comfortable handling, high-weight and small size, ATVs are mainly used for racing and trail riding. UTVs are mostly used for hauling things and going to all-terrain conditions.
Price
ATVs smaller than UTVs and used for ATVs are limited; that's why ATVs' price is less than UTVs. UTV's price is way higher than ATVs.
Final Words – What is an ATV
Whether you say an all-terrain vehicle or ATV, both are the same. To understand our audience what an ATV is, I shared everything you need to know about ATVs here.
ATV safety, ATV brands, ATV insurance coverage and cost of ATV, everything you will find on this page.
To ride ATVs, you must follow ATV safety because some bad things can happen if you don't know the precise all-terrain vehicle safety procedure. And ATV insurance coverage and requirements you also should know before you buy ATVs.
Understanding the difference between ATV and UTV also will help you. So, I am sure you know what an ATV is, what features you will get on an ATV, and most importantly, the different types of ATVs.
Hey, I'm Calvin from Arizona. Living in Arizona makes me an adventurous and off-road enthusiast, I must say. Raiding ATVs, UTVs and Dirt bikes with my friends is all about me. And offroadlord.com is the way to let you guys know everything about off-roading.