Chinese ATV brands are gradually taking a big place in the ATV market. Nowadays, Chinese ATVs are also becoming popular.
Although Japanese ATV brands are producing the most ATVs, Chinese four-wheeler brands are also upgrading their ATVs with new technology and making them long-lasting.
Buying an ATV in 2023 can be confusing because most of the ATV brands are manufacturing quality and high-performance ATVs.
People often get confused between Chinese and Taiwan ATV brands, but both countries have different model lineups. Amphibious ATV brands are rare in Chania.
But if you want to buy cheap and good quality ATVs, you should check out some Chinese ATVs.
Chinese ATV Brands
Chinese ATV brands are Linhai, Coolster, CFMoto, X-PRO, TaoTao, IceBear, and Apollo. These ATV brands are producing made in china ATVs in the market in 2023.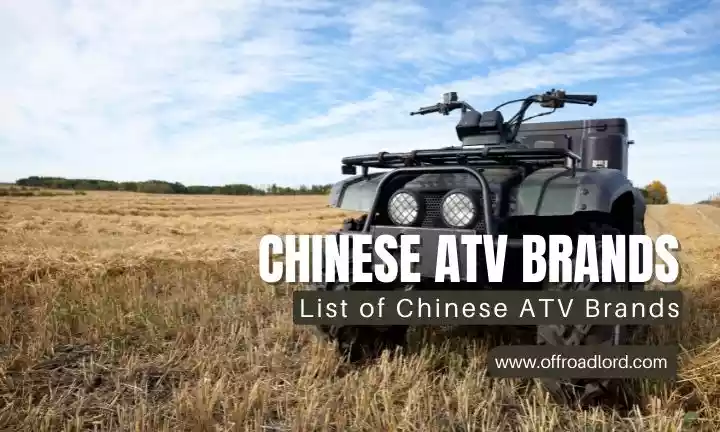 Here is the list of Chinese ATV brands:
Coolster
Linhai
CFMoto
X-PRO
TaoTao
Apollo
IceBear
1. Coolster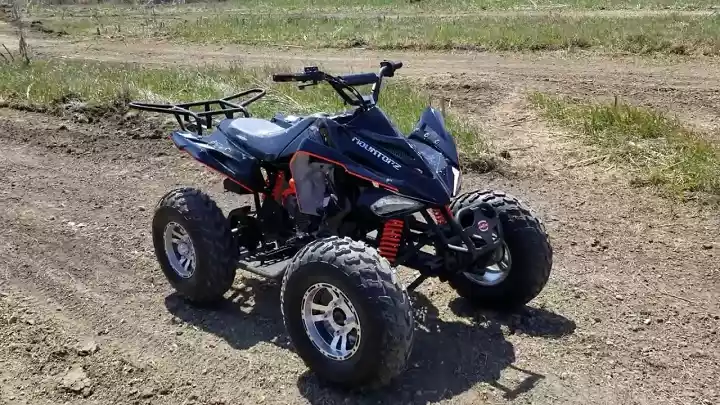 Coolster is a Chinese ATV brand that manufactures ATVs in China.  Coolster started its journey in 2002.
Although Coolster first manufactured electric seated scooters, now Coolster also provides Chinese dirt bikes and go-karts with ATVs.
Coolster now has more than five hundred dealerships in the United States.
Like other ATV brands, Coolster also has a variety of types of ATVs and models.
Coolster has now come up with various advanced features, and their ATVs can go from 25mph to 58mph speed. Especially for kids, Coolster is one of the best Chinese ATV brands.
Top Coolster ATVs:
Coolster ATV-3050C (125cc)
Coolster 3150DX-2 (150cc)
Coolster ATV-3125B2 (125cc)
Cost of Coolster ATVs:
For cheap and quality ATVs, Coolster has good recognition all over the world. Coolster ATVs average cost started from only $450 to $1,700.
To buy Coolster ATVs, you must contact one of Coolster dealers.
Related Post: The 10 Biggest Four-Wheelers
2. Linhai
Linhai, also known as LYM, is another Chinese 4 wheeler brand founded in 1956 in China.
Linhai has different types of product lines such as motorcycles, utility task vehicles (UTVs), mopeds engines, and all-terrain vehicles (ATVs).
Linhai ATVs are exported all over the world in North America, Africa, Asia and Europe.
Linhai Chinese ATVs are good for speed, but they are not durable and high-performance like American brand ATVs.
LYM is a joint venture between Yamaha Motor Co. and Jiangsu Linhai Power Machinery Group Corporation. That's why you often see the name "Linhai-Yamaha".
Top Linhai ATVs:
Linhai M150
Linhai M550L
LINHAI 500-D
Cost of Linhai ATVs:
The price of Linhai ATVs started from $3,299 to $6,999. From 2019 to 2021, Linhai produced high-performance and quality ATVs to sustain in the ATV market.
See Also: The List of Fastest ATV
3. CFMoto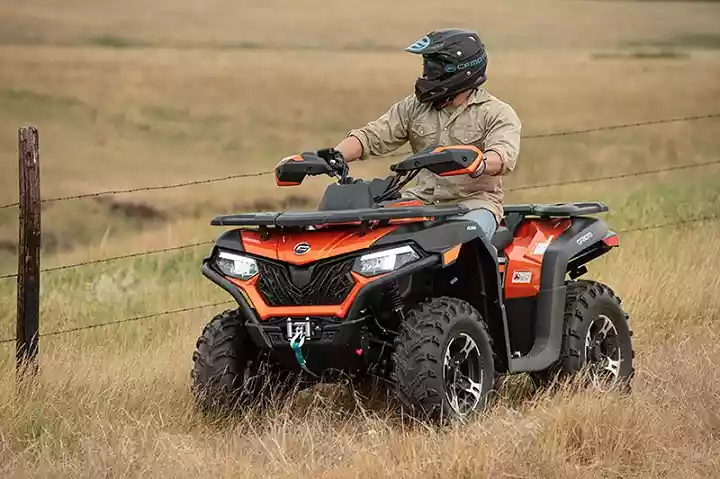 CFMoto was founded in 1989, and its headquarters is in Hangzhou, China. CFMoto is a partner of KTM (Kraftfahrzeuge Trunkenpolz Mattighofen).
People often think CFMoto is a Canadian ATV brand but it's not, it's a Chinese ATV brand.
CFMoto manufactured motorcycles, ATVs, Side by Side, and vehicles accessories and apparel.
CFMoto is well known as a motorcycle company, but they also make other vehicles.
CFMoto produces good quality all-terrain vehicles (ATVs) in the U.S. CFORCE is the ATVs model lineup of CFMoto.
With tough and budget-friendly and ATVs safety, CFMoto takes place on the list of best Chinese ATV brands.
KTM is already a successful motorcycle company, and KTM now runs CFMoto; that's why CFMoto ATVs are reliable and durable.
Top CFMoto ATVs:
CFORCE 600
CFORCE C800 XC
CFORCE 500
CFORCE 400
Cost of CFMoto ATVs:
Unlike other Chinese ATVs, although CFMoto is a Chinese ATV brand, its ATVs are durable and quality full that's why the price of CFMoto ATVs is high.
CFMoto ATVs price starts from $4,799 to $9,999, and you need to find a dealer to buy CFMoto ATVs.
4. X-PRO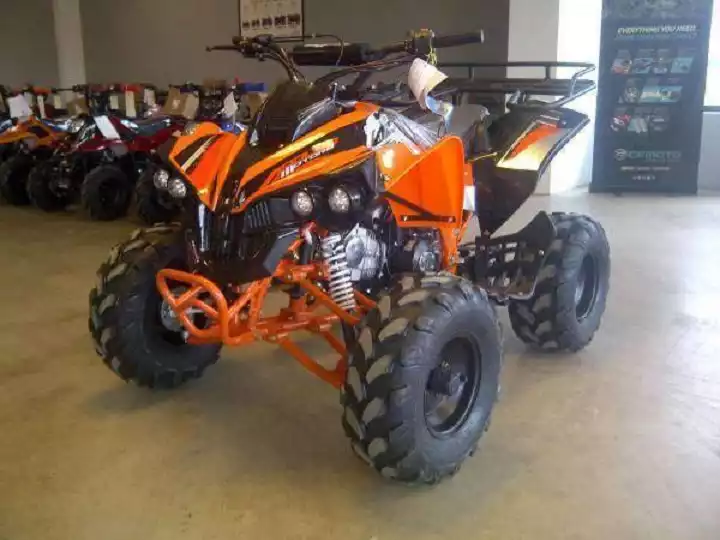 Whether you want Chinese adult size or kids ATVs, X-PRO brand has what you need.
X-PRO is well known for its youth ATVs, but X-PRO also manufactures all sizes and types of 4-wheeler.
X-PRO ATVs are made in China, but their ATVs are available in the U.S. In California, X-PRO established their warehouse, and X-PRO ATVs are assembled there.
Moto Pro brought X-PRO and increased production all over the world. X-PRO ATVs are easy to ride, and especially for beginners, X-PRO ATVs can be the best choice.
Top X-PRO ATVs
X-PRO 125CC ATV
X-PRO BOLT 110CC ATV
X-PRO EAGLE 125CC ATV
X-PRO THUNDER 125CC ATV
Cost of X-PRO ATVs
X-PRO kids ATVs prices start from $569.95 to 1,099.95, and X-PRO adult ATVs prices start from $1,149.90 to $1,999.95.
X-PRO hours of operation Monday to Friday from 7:00 AM to 5:00 PM CST. You can also order X-PRO ATVs online.
5. TaoTao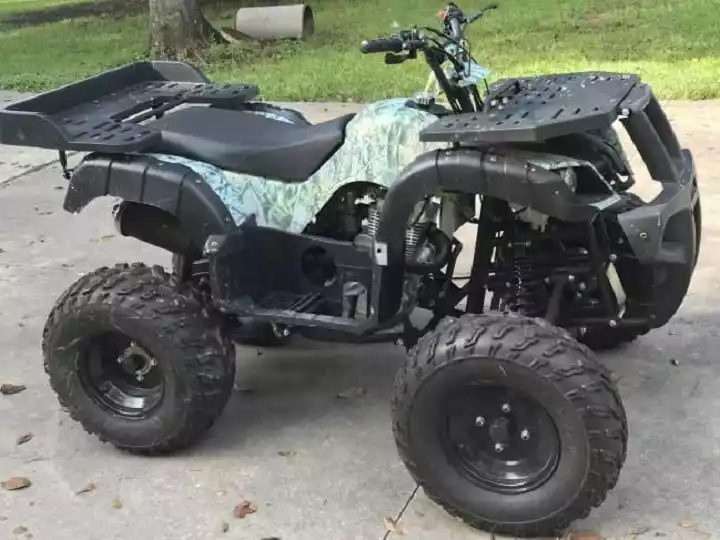 TaoTao is another popular Chinese ATV brand. TaoTao or Tao Motor, whatever you call it, both are the same company.
TaoTao was founded in 1985 in Jinyun County, Zhejiang Province, China.
TaoTao manufactures ATVs, scooters, mini bikes, go-karts, motorcycles, and apparel and supplies in the United States.
As a Chinese ATVs manufacturer, TaoTao has a good reputation for its products.
When your budget is low, but you need to buy an ATVs that are cheap and comfortable, TaoTao ATVs might be the best option for you.
TaoTao ATVs are capable of trail riding, hauling, hunting, and more.
Top TaoTao ATVs:
TaoTao Bull 150cc
TaoTao Adult Size Rhino 250
TaoTao Utility ATA-125D – 110cc ATV
TaoTao TFORCE 110cc Youth Size ATV
Cost of TaoTao ATVs:
The average cost of TaoTao ATVs is from $1,075 to $1,999.
TaoTao ATVs' price depends on TaoTao dealers. That's why you must negotiate with your nearest TaoTao ATVs dealers.
6. Apollo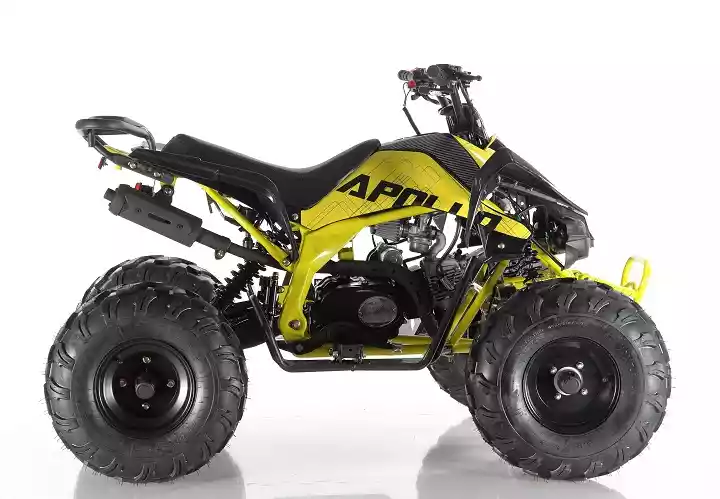 Apollo is a Chinese ATV manufacturer that makes ATVs under Zhejiang Apollo Motorcycle Manufacturer Co., Ltd.
Apollo company, also known as Zhejiang Apollo. Apollo makes electric bicycles, ATVs, electric scooters, and dirt bikes.
Apollo ATVs are available in the U.S. ATV market, and Apollo held their decent position in this competitive market for its good quality products. 
Apollo 4-wheelers are powerful and cheap. Apollo 150cc ATV can go 35+ mph. Apollo brings different types and sizes of ATVs every year.
Top Apollo ATVs:
Apollo VMoto Blazer 9 125cc
Apollo Sportrax 125cc
Apollo Commander 200cc
Apollo Sniper 125cc
Cost of Apollo ATVs:
To buy an Apollo ATV that costs you $1,224 to $2,359. Apollo ATVs come up with various colors white, black and red.
Apollo ATVs prices might change depending on locations and dealers.
7. IceBear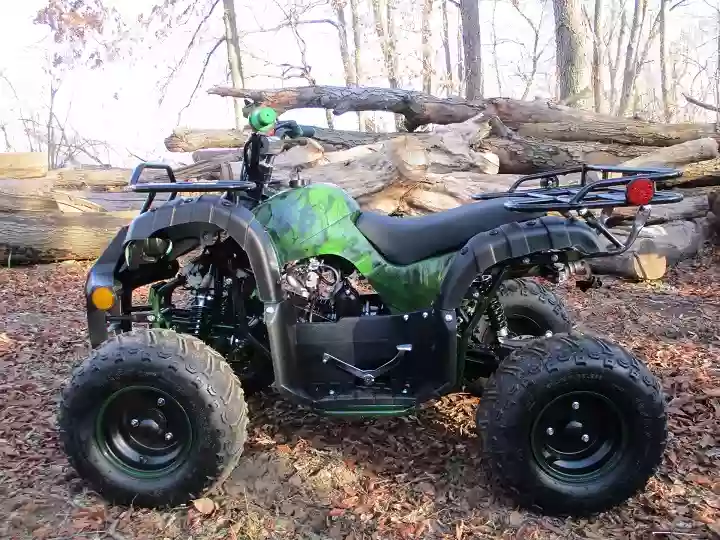 Pacific Rim Int'l West Inc. is the parent organization of IceBear ATVs.
Pacific Rim Int'l West Inc. manufactures and produces its Powersports products under "IceBear."
Since 2006, IceBear ATVs have been available in the ATV market. IceBear produces its ATVs all over the world.
IceBear manufactures ATVs in China, and they claim their product development center is in Japan.
IceBear ATVs are affordable and powerful enough to go through any terrain condition. IceBear ATVs are also available in the United States.
Top IceBear ATVs:
IceBear PAH125-8S
IceBear PAH110-2
IceBear PAH125-8E
Cost of IceBear ATVs:
IceBear is a budget-friendly Chinese ATV brand. IceBear ATVs price between $9,999 to $1,550.
Various colors are available on IceBear ATVs, such as white, black, red, green, and more.
Where to Buy Chinese ATVs?
Chinese  ATVs are now available to buy from anywhere in the world.
Sometimes, it gets hard to purchase Chinese quads for limited dealerships and productions of Chinese ATVs.
But, when you know where Chinese ATVs are available, it's become easy to buy one for you. So, let's see where to buy Chinese ATVs.
Find a Chinese ATV Dealer:
Chinese ATV or Powersports dealers are available in every country. In most cases, Chinese ATV dealers have a variety of Chinese ATV brands ATVs.
Buy From Online:
Nowadays, ordering ATVs online is so common. Search Chinese ATV dealers online in your area, and you will find their online stores. You might get free shipping to your house. Chinese ATV brands also have their own online stores.
Buy From E-Commerce:
World's leading e-commerce websites are also selling ATVs on their website. E-Commerce like Amazon, Alibaba, and more can buy Chinese ATVs.
Final Thoughts – Chinese ATV Brands
Chinese ATV brands are manufactured ATVs in China. Chinese ATVs are cheap but not durable and powerful enough like American or Japanese ATVs.
For budget-friendly ATVs, you can check Chinese ATV brands.
Oftentimes Chinese 4 wheeler brands have dealerships all over the world to sell their ATVs.
You might also find a Chinese manufacturer dealer who can give you Chinese ATVs in your area.
Chinese ATVs are more beginner-friendly; they are not for professional work like agriculture, hauling, and sports.
Therefore, you must keep that in your mind before buying any Chinese-made ATV.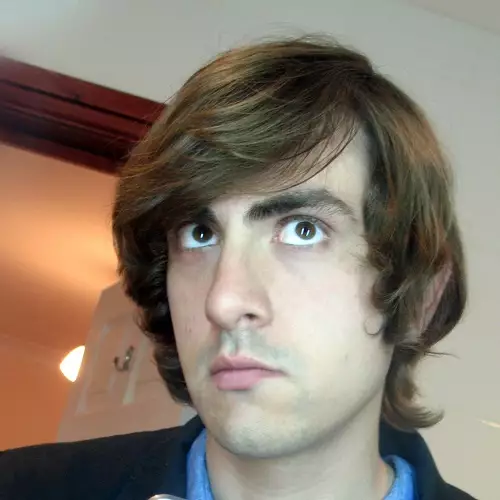 Calvin Anderson, founder of Off-Road Lord, is a seasoned off-roading enthusiast from Tucson, Arizona. With over a decade of hands-on experience and a deep understanding of off-roading vehicles and trails, Calvin's insights provide a trusted guide for fellow adventurers.