Get confused to find American ATV brands? You might be because of some limited ATV brands that make American-made ATVs. We love American ATV brands for their ATV's quality and comforts.
When you are an American and ATV enthusiast, you must know what ATVs are made in the USA.
Because if you have plans to buy an ATV, you should check American-made ATV first.
You often find similarities between American ATV brands and Canadian ATV brands, but American-made ATVs are always one step forward by reliability.
American ATV Brands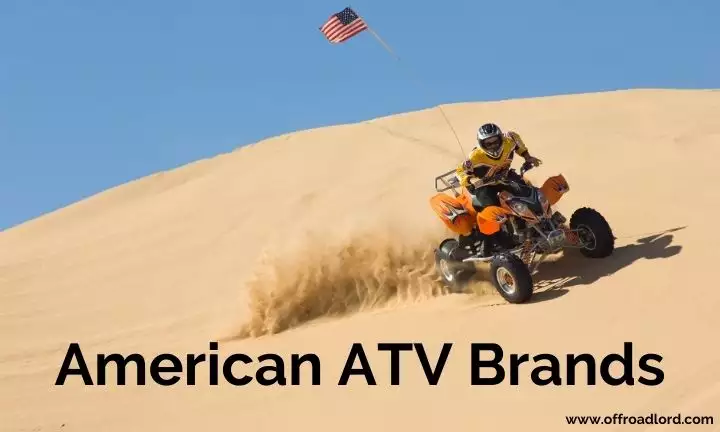 Arctic Cat, Polaris, and ODES are American ATV brands, and you will find their American-made ATVs on the market as of 2023. Polaris and Arctic Cat, both American ATV brands, manufacture ATVs in Minnesota, United States.
Here is the list of American ATV brands:
Arctic Cat
Polaris
ODES
1. Arctic Cat
Arctic Cat is a popular American ATV brand founded by Edgar Hetteen. Arctic Cat has mainly two product productions: Any types of all-terrain vehicles (ATVs) and snowmobiles.
Arctic Cat was founded in 1960 in the town of Thief River Falls, Minnesota, United States.
Edgar Hetteen's innovation started before he founded Arctic Cat. Edger Hetteen, David Johnson, and Allan Hetteen started a company named Polaris Industries in the 1950s.
But, Edgar Hetteen left that company and started his own company named Arctic Enterprises.
In 1996, Edgar Hetteen changed the name of his company to Arctic Cat.
In 2017, Arctic Cat joined with giant company Textron. And Arctic Cat changed their company name to Textron Off-Road, but in 2020, Textron Inc. decided to keep the old name Arctic Cat one again.
Arctic Cat manufacturing WILDCAT XX ATV built with the most recent and advanced technology.
Best Arctic Cat ATVs:
Arctic Cat Alterra 600 XT
Arctic Cat Alterra TRV 700 EPS
Arctic Cat Alterra 300
Arctic Cat Alterra 600 EPS
Arctic Cat ATVs Price:
Arctic Cat ATVs price range is between $3,359 to $10,699.
See Also: The List of Biggest Four-Wheelers
2. Polaris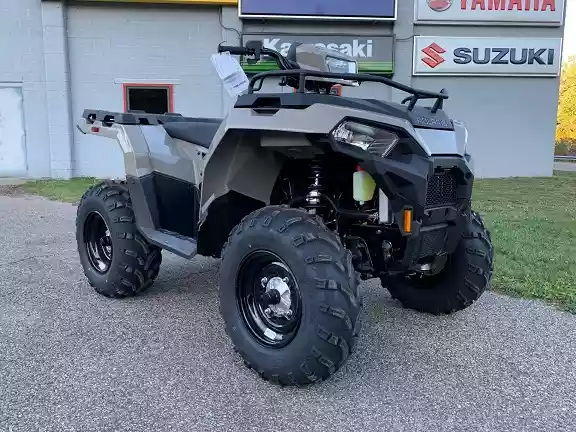 When you talk about American-made ATVs, you must mention Polaris ATVs because Polaris is one of the best American ATV brands.
In 1954, Edger Hetteen and his friends founded Polaris Inc. in Minnesota, United States.
Although Polaris is famous for manufacturing 4 wheelers and snowmobiles, they make motorcycles, electric vehicles, and more.
Polaris produced the first American-made ATV in 1985, and they have a better ATV safety rating than other brands.
U.S. military and other forces used Polaris ATVs for their mission and defense.
Polaris provides the largest ultralight tactical vehicle for the U.S. military because Polaris is an American ATV brand, and also its ATVs are reliable.
The Sportsman 850 ATV model is one of Polaris's most popular American-made ATVs.
Because of high performance and durability, Polaris ATVs are still considered the best American-made ATVs.
Polaris produces Sports, Utility, and Youth ATVs in the market, but their Sports ATVs are the most famous.
Top Polaris ATVs:
Polaris Sportsman 450 H.0.
Polaris Sportsman 570
Polaris Sportsman 850
Polaris Sportsman XP 1000 Ultimate Trail
Polaris ATVs Price:
The average cost of Polaris ATVs is between $4,199 to $14,499 but Polaris RZR Turbo special edition price is $31,999.
Related Post: Fastest ATV
3. ODES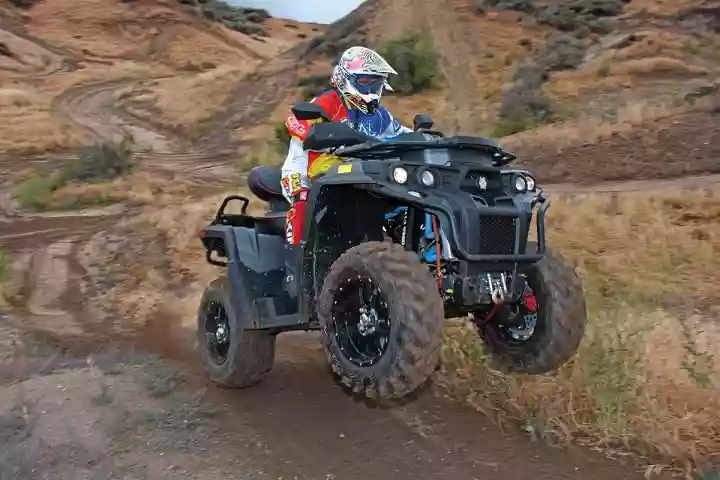 For comfort, people know the ODES brand well. ODES was founded in 2011, and still, now this American ATV brand keeps producing their ATVs.
ODES moved to Garland, Texas, in March 2020. ODES ATVs are made in Riverside, California, United States.
ODES manufacturers ATVs and UTVs but their Side-by-Side (SxS) ATVs are the most popular all over the United States.
ODES has good recognition for their Saber 750 ATV because this ATV is cheap and comfortable but not cheap as Chinese ATV brands ATVs.
ODES has some popular ATVs models, including ravager, saber, and dominator x2.
Top ODES ATVs:
ODES Saber
ODES Ravager
ODES X-F-3
Price of ODES ATVs:
The average price of ODES ATVs started from $3,199 to $12,499, and ODES ATVs are fully customizable.
Top 4 American Made ATV
American-made ATVs are more reliable and comfortable. ATV brands produce different model lineups every year, but you must know which one is American-made and worth buying.
American ATV brands manufacture American-made ATVs mostly.
List of top four American made ATV:
Polaris Sportsman 850
Arctic Cat Alterra 600 XT
Odes Saber 750
Polaris Scrambler 850
#1 – Polaris Sportsman 850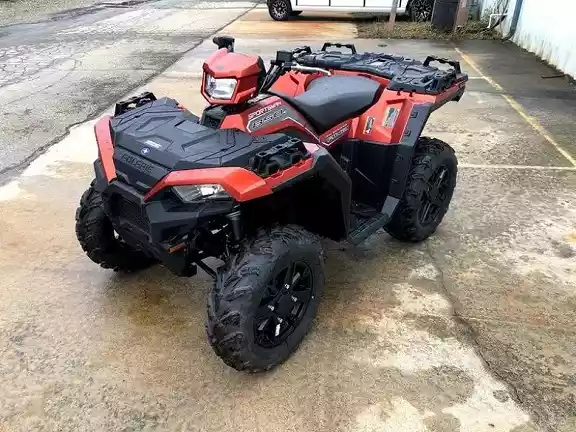 Polaris Sportsman ATV model lineup is very popular because of its advanced features and reasonable price.
Polaris Sportsman 850 has a 78 horsepower ProStar engine that is capable of going through toughness.
Polaris Sportsman 850 is also used for towing because it has a 1,500 lb. towing capacity.
Polaris Sportsman 850 ATV is starting price $9,999, and this ATV comes in two colors: saga Green and military tan. Price will increase when you add some extra accessories to it.
#2 – Arctic Cat Alterra 600 XT
Arctic Cat Alterra 600 XT is another best American-made ATV that has a 600cc engine on it. You must check the Alterra 600 XT for better power and comfort before buying any ATV.
You don't need to worry about ride height or ground clearance because it has an 11.5-inch ride height.
Arctic Cat Alterra 600 XT is a single-rider 4 wheeler, and it will cost you $9,199 bucks for basic setup. Alterra 600 XT has only one color available is medium green.
#3 – Odes Saber 750
The Saber 750 is an advanced version of ATV that the Odes ATV brand provides.
Odes Saber 750 the model year 2021, and Odes added new features. Odes Saber 750 has 45 horsepower, and it is 695 cubic capacity (cc).
Odes Saber 750 American-made ATV price started from $8,799.99 when you add some accessories; this ATV price will be high.
The Saber model lineup is very popular in the United States because of its quality.
#4 – Polaris Scrambler 850
Polaris Scrambler 850 is another American-made best performance ATV.
The price of performance ATVs is always a little higher than other types of ATVs. So, Polaris Scrambler 850 starting price is $11,599.
The Scrambler 850 has a 78 horsepower engine with 11.5″ of Ground Clearance. Only one color is available that is orange burst. Polaris Scrambler 850 model ATV is perfect for sports.
Why Is American Made ATV Reliable?
When you choose an ATV for yourself or your family members, you must think about the ATV's reliability.
American-made ATVs are reliable because American ATV brands are using updated and advanced technology on their ATVs.
Although American-made ATVs cost you more money than Japanese ATVs or Chinese ATVs, the quality and reliability are much better in American-made ATVs.
Not only American ATV brands are manufacturing reliable ATVs, but several other international ATV brands also care about reliability.
ATVs brands like Yamaha, Honda, Suzuki, and Taiwan ATV manufactures also produce quality and better ATVs on the market.
Conclusion – American ATV Brands
When you are willing to buy ATVs from American ATV brands, the options are limited, but you can get the best and most reliable American-made ATVs.
Polaris and Arctic Cat are both prominent American ATV brands that are also famous worldwide.
All foreign ATV brands also produce ATVs in the U.S. market.
Most ATV brands assemble ATVs parts and accessories in the United States and label "Made in USA" on their ATVs.
But, Polaris, Arctic Cat, and ODES American ATV brands are manufacturers and assembling in the United States.
Hey, I'm Calvin from Arizona. Living in Arizona makes me an adventurous and off-road enthusiast, I must say. Raiding ATVs, UTVs and Dirt bikes with my friends is all about me. And offroadlord.com is the way to let you guys know everything about off-roading.