As an ATV or four-wheeler enthusiast, you should know about ATV brands in 2023. Now ATVs are manufactured all over the world.
There are American-made ATV brands, Chinese ATV brands, and Japanese ATV brands available on the market. But, you must know what the best ATV brands are.
When it comes to finding the most reliable ATV brands, you must know ATV brands' products, reliability, services, history, market position, and more.
That's why after in-depth research, I came up with all ATV Brands in the world in 2023.
ATV Brands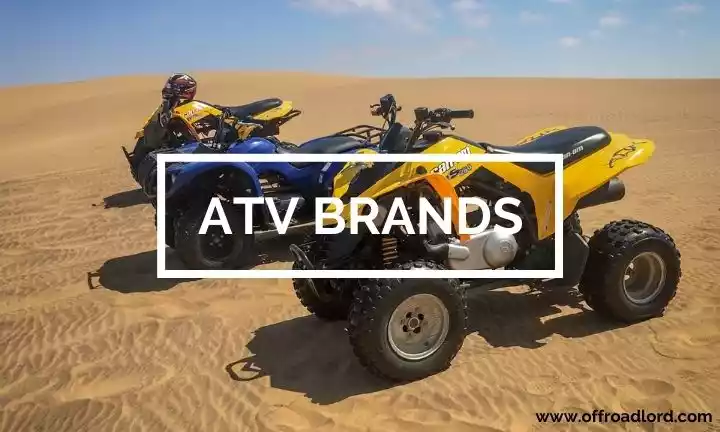 The List of All ATV Brands:
Yamaha
Polaris
Honda
Can-Am
Suzuki
Kawasaki
KTM
SHERP
KYMCO
Linhai
Arctic Cat
TaoTao
CFMoto
Apollo
Aeon Motor
Kubota
AlphaSports
The well-known ATV brands are Yamaha, Polaris, Honda, Can-Am, Suzuki, and Kawasaki because these ATV brands offer all types of ATVs in many sizes. These ATV brands are also considered the best ATV brands as of 2023. Whether you need a youth size ATV or an Adult size ATV, these brands have that ATV.
Many ATV manufacturers are out here; they also produce different types and model ATVs every year.
You can also differentiate four-wheeler brands by country: American ATV brands, Chinese ATV brands, Japanese ATV brands, and more.
1. Yamaha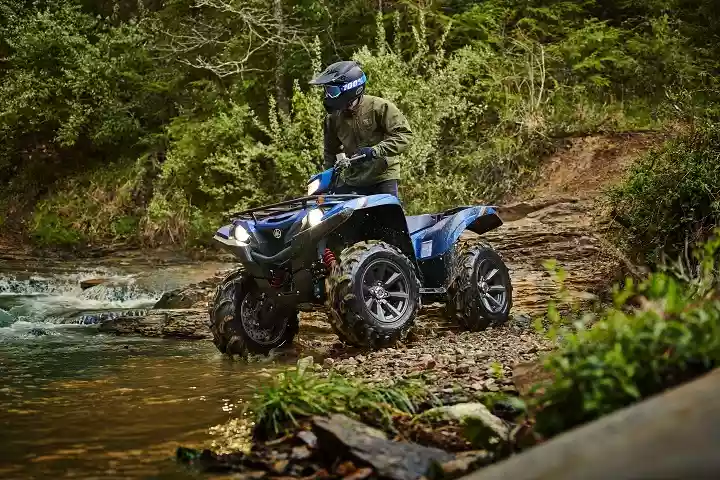 Yamaha is a well-known motor company worldwide, especially in the motor industry. Yamaha is a Japanese manufacturer founded in Iwata, Shizuoka, Japan.
When competitors already got into off-roading, Yamaha didn't take long to make all-terrain vehicles.
Yamaha first made their three-wheeler Tri-Moto in 1980. And this is the first ATV sold in the USA from Yamaha. But, Tri-Moto doesn't have the advanced or compatible ATV feature, Yamaha Tri-Moto model was combined with basic features.
Yamaha Big Bear 400 is the first ATV that had a fully camouflaged body. After the Yamaha Big Bear 400, they continuously expanded ATVs business.
Yamaha ATVs price range starts from $2099 to $14,000, and with customization, the price can go higher than that.
The 2023 Grizzly EPS is the best ATV from Yamaha, and there are also many Yamaha good performance ATVs they provided.
Related: The 10 Biggest Four-Wheelers
2. Polaris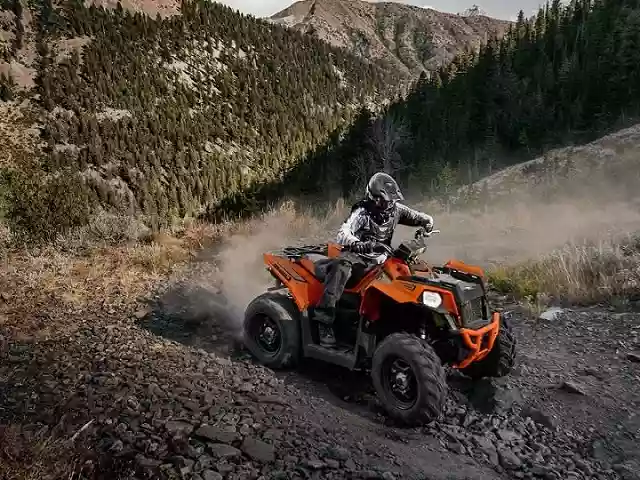 Polaris is an American-made ATV brand that was founded in 1954 in Minnesota, United States. Polaris is very popular in the United States for all-terrain vehicles, snowmobiles, and electric vehicles.
The Scrambler ATV and Trail Boss were the first ATV from Polaris, and both ATVs are considered the first American-made ATVs.
Since 1985 Polaris has made ATVs, and still, they keep their ATVs at the top in America. Polaris produces ATVs for the U.S. government and Defense especially, for the U.S. military.
Polaris ATVs are all about better performance and durability. The 2021 Polaris Sportsman 850 model earned good renown.
Polaris ATVs prices start from $2,299 to $26,599, for Polaris ATVs advanced features push their ATVs price higher.
See Also: Biggest Four-Wheelers of All Time
3. Honda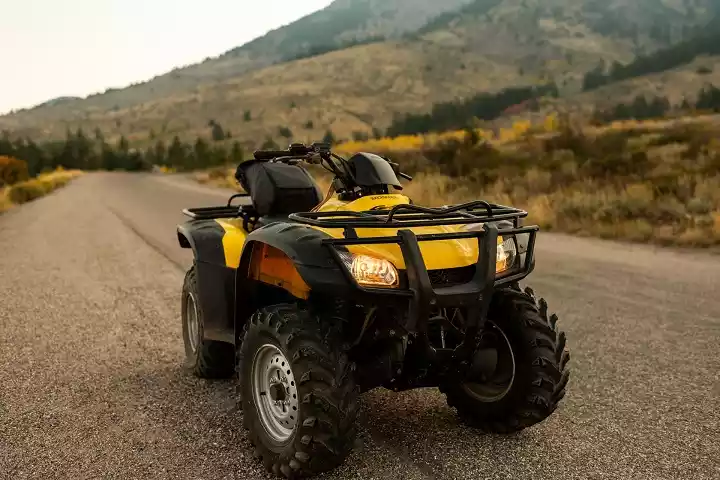 Honda has a very strong background in all-terrain vehicle manufacturing because Honda brought the world's first three-wheeled ATV in 1970.
Although Honda is now best known for its fuel-efficient cars in America, Honda manufactures motorcycles, ATVs, cars, and more.
Honda is a Japanese ATV brand founded in Hamamatsu, Shizuoka, Japan. Honda ATV's better safety and comfort let them be the best ATV brand.
Honda ATVs price range starts from $3,199 to 12,894; the 2021 Honda TRX520 RUBICON DCT DELUXE is the most expensive Honda ATV. Both Sport and Utility ATVs Honda is the best ATV brand.
4. Can-Am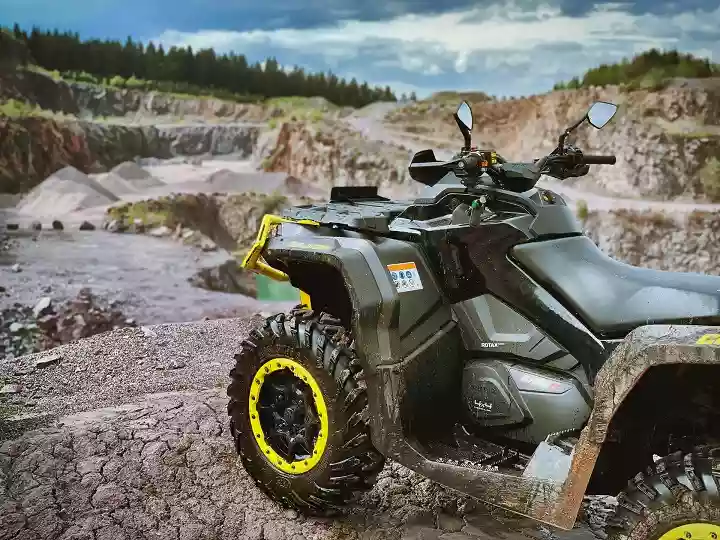 Whether you call it Can-Am or Bombardier, both companies are the same. Can-Am is a Canadian ATV brand.
Can-Am motorcycles company was founded in 1971, and Can-Am headquarters in Montreal, Canada.
Can-Am first manufactured motocross dirtbikes in 1998, but Can-Am first entered the ATV market in 2007. Can-Am ATVs are frequently used for hunting because Can-Am ATVs are powerful and durable.
The Can-Am OUTLANDER 650 Mossy Oak Edition is considered the best Can-Am ATV in the market, and this model is ideal for hunting too.
To get a Can-Am ATV might cost you about $6,300 to $15,000 US dollars.
Related Article: Top Fastest ATV Models
5. Suzuki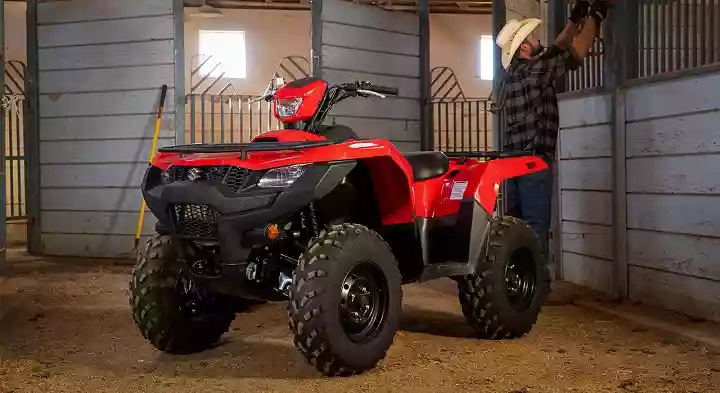 Suzuki ATVs are very popular in the USA and Canada. Suzuki is a Japanese motor corporation, and Suzuki produces their products all over the world.
Suzuki has a variety of products such as motorcycles, cars, minibuses, off-road vehicles, trucks, and more.
Suzuki is most popular for manufacturing kids ATVs and utility ATVs in America. In 1970, Suzuki first made 4 wheelers; the Suzuki QuadRunner 125 was the first Suzuki quad.
Suzuki ATVs another special benefit is Suzuki ATVs can be used for dual purposes because you can use their ATVs as utility and sports.
6. Kawasaki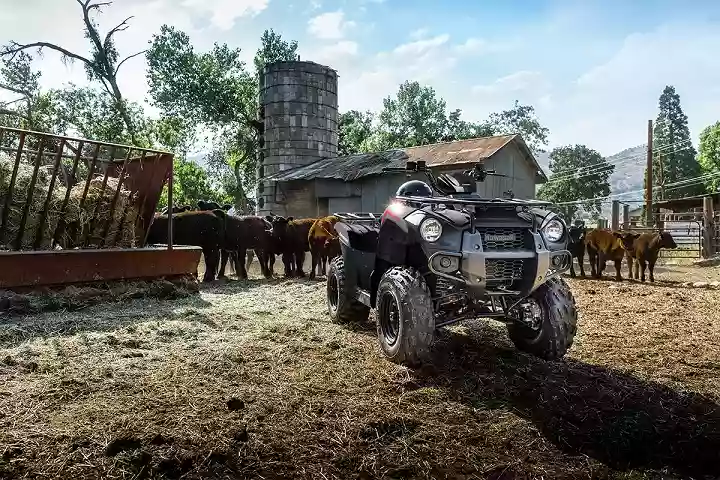 Kawasaki is a famous name for its Powersports vehicles, including ATVs, Side x Sides, motorcycles, and many more.
Kawasaki is from Japan, and this is another successful Japanese motor company. Kawasaki headquarters in Chūō, Kobe, and Minato, Tokyo, Japan.
Kawasaki began manufacturing all-terrain vehicles (ATVs) in 1981. Kawasaki ATV brand is way better than any other ATVs brands For high performance and high speed.
Kawasaki started their ATVs producing journey with the three-wheeled KLT200. Kawasaki four-wheelers average price range starting from $2,000 to 12,699.
7. KTM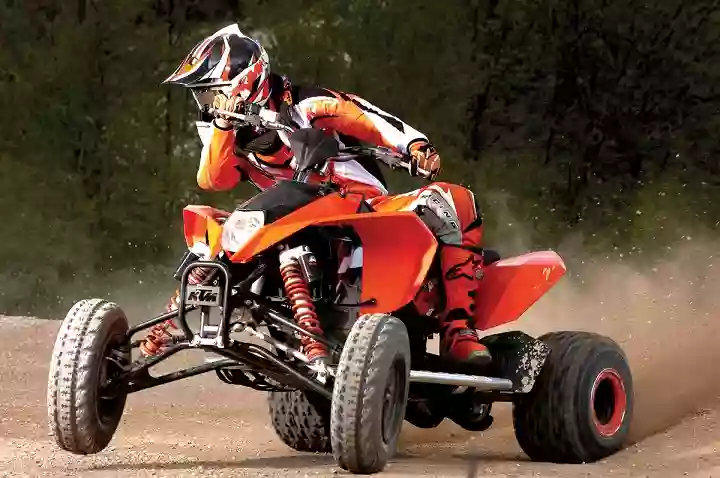 KTM is an Australian motor company founded in 1934. The full form of KTM is Kraftfahrzeuge Trunkenpolz Mattighofen.
KTM ATVs have one very good feature, which is their speed. KTM motor company makes high-speed four-wheelers and produces them all over the world.
KTM entered the all-terrain vehicles manufacturing business in 2007; KTM's first quad was The 450 and 525 XC. But after a couple of years, KTM stopped production of four-wheelers and focused only on motorcycles. 
8. SHERP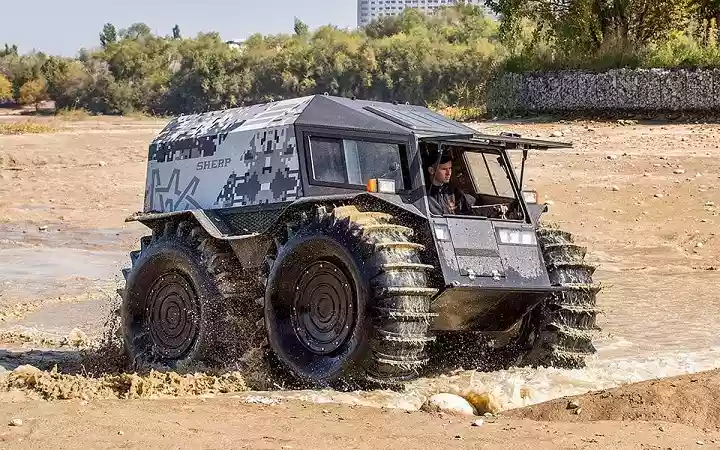 SHERP is a Ukrainian ATV company, and its headquarters are in Canada, Ukraine, Russia. SHERP is an Amphibious off-road vehicle manufacturer.
SHERP ATVs are not like typical ATVs, they are specialized for heavy work, and SHERP ATVs are bigger than any usual ATVs.
SHERP brand ATVs are capable of going through rock, sand, snow, ice, swamps, and any terrain condition.
Geologists, oil workers, and hunters use SHERP ATVs for rough off-road. SHERP ATVs price start from $100,000 to $375,000. The SHERP Ark model is the most expensive ATV, and this model ATVs are quite big.
9. KYMCO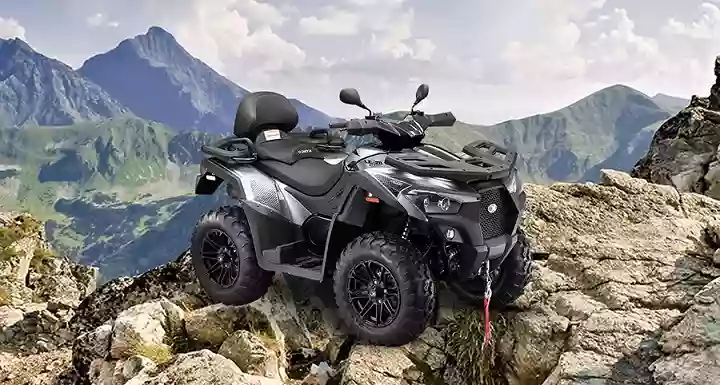 KYMCO or Kwang Yang Motor Company is a Taiwan-based manufacturer founded in 1963. Kymco started making ATVs in 2002, and they are still producing ATVs.
In the United States, Kimco is well-known for making cheap ATVs. But, KYMCO is developing its products and services to be reliable.
Now, Kymco supports its customers through the dealer network. If you want to get Kymco ATVs, it will cost you between $3,899 to $8,499. The 2021 MAXXER 450i is the most reliable ATV from Kymco.
10. Linhai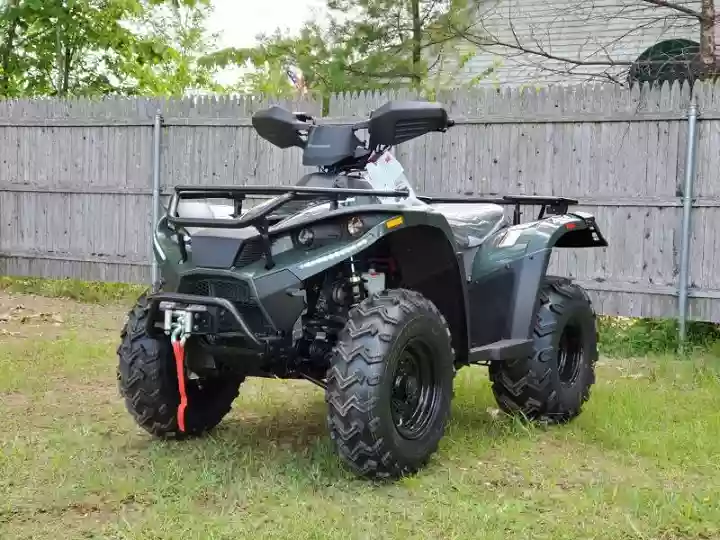 Linhai is a Chinese manufacturer that makes motorcycles, mopeds, engines, ATVs, and UTVs.
Linhai is doing business in China under the giant brand Yamaha. Linhai is also known as LYM, and this company was founded in 1956.
Gradually Linhai Group expanded their ATVs business, and with high-tech features, they manufactured reliable ATVs.
11. Arctic Cat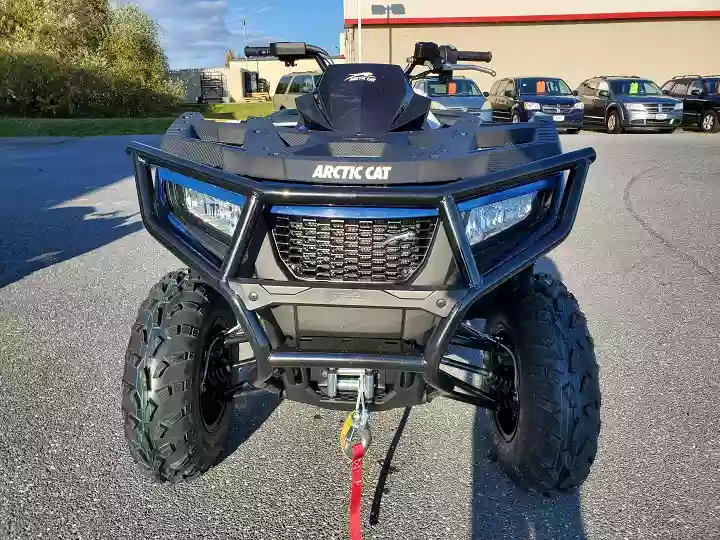 Arctic Cat is an American snowmobile and all-terrain vehicles manufacturer.
Arctic Cat can be the best choice for you if you commonly go through rough terrain because Arctic Cat is the best for its high-performance engine and reliability.
Edgar Hetteen is the founder of Arctic Cat, and he is also co-founder of Polaris ATV brand. Arctic Cat and Polaris are both run by the same company Textron Specialized Vehicles Inc.
Arctic Cat first stands out by their powerful snowmobile, and then they also start manufacturing all-terrain vehicles (ATVs). Arctic Cat first offered utility ATVs on the market in 1996. 
The Arctic Cat's Alterra TRV 700 is one of the most popular ATVs. Quality and better performance make Arctic Cat's four-wheelers reach the top ATV brands.
Arctic Cat ATVs average price range starts from 6,499 to 22,000 US dollars, and the price can be even higher if you attach some additional accessories.
12. TaoTao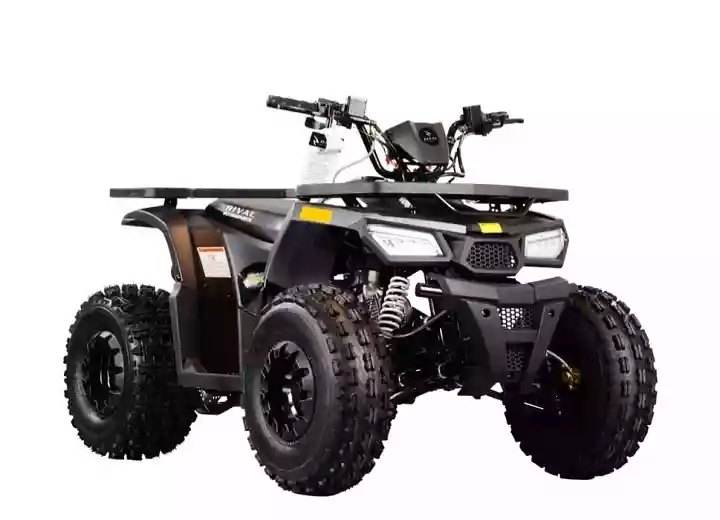 TaoTao now is Tao Motor. TaoTao is a Chinese ATV brand founded in 1985 in Jinyun County, Zhejiang Province, China.
TaoTao is a well-known ATV brand for its affordable ATVs. Although TaoTao is a Chinese quads brand, it's cheap and comfortable.
The Rhino 250 Utility ATV is a popular ATV from TaoTao. TaoTao commonly manufactures adult size and youth size ATVs.
TaoTao four-wheelers cost you between $1,699 to $5,500, and you can get TaoTao ATVs from TaoTao dealers and E-commerce websites.
13. CFMoto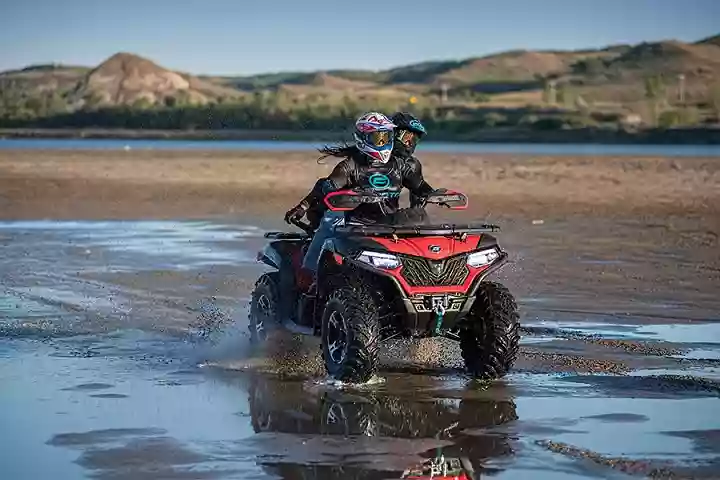 CFMoto is the partner of KTM. CFMoto was founded in 1989. Hangzhou, China. They produce motorcycles, all-terrain vehicles (ATVs), and more Powersports vehicles, but their motorcycle is first recognized. CFMoto is a Chinese ATV brand, and they are more popular in China.
CFMoto first introduced its four-wheelers in 2006. CFMoto ATV's high performance and reliability make them quickly popular in the United States.
They manufacture mostly Side x Side ATVs (SxS), including Sport and Utility Side x Side ATV. CFMoto makes good quality ATVs, and they even compete with the best ATV brands like Polaris and Yamaha.
14. Apollo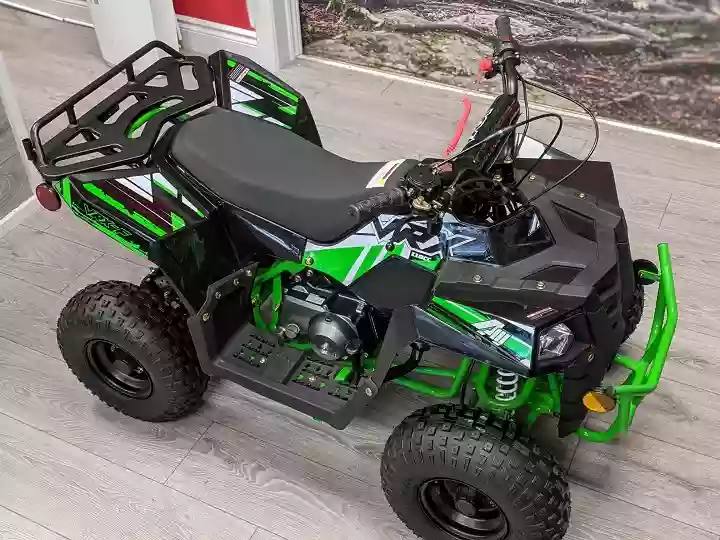 Apollo got popularity from its ATV model, the Apollo 125cc ATV. Apollo ATVs are valued for money because they are of good quality and affordable.
Apollo is a Chinese ATV manufacturer that makes ATVs under Zhejiang Apollo Motorcycle Manufacturer Co., Ltd.
If you plan to get an Apollo four-wheeler, you won't get too much choice because Apollo does not produce ATVs frequently. Apollo makes more kids ATVs than other types of ATVs.
15. Aeon Motor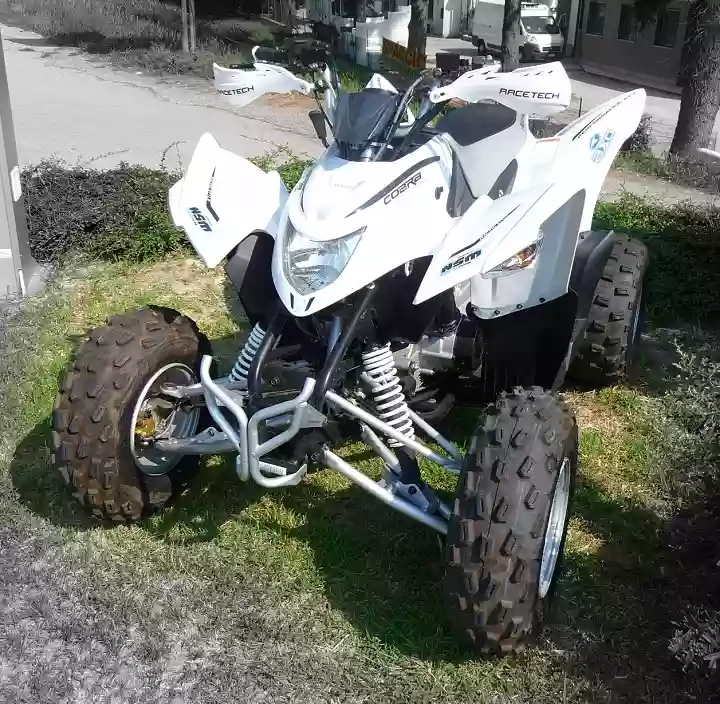 Aeon Motor is a Taiwanese ATV brand that was founded in 1998. Aeon Motor also manufactures mini bikes, scooters, and more.
Aeon first introduced ATVs in the USA Market in 2000, and Aeon 50/90cc youth ATVs became the number 1 selling youth ATV in the United States in 2004.
Aeon ATV brand has a good reputation for making youth ATVs. Aeon ATVs are not expensive; you can get Aeon ATVs for cheap.
16. Kubota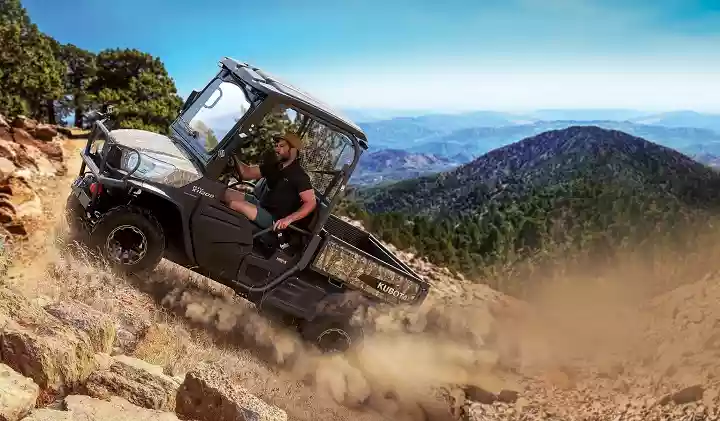 Kubota is a Japanese Agricultural machinery company that makes mainly RTVs. Kubota was established in 1890 in Osaka, Japan.
Kubota now manufactures full-line Utility ATVs, and they compete with some big competitors.
The 2020 Kubota RTV-XG850 Sidekick is a popular RTV from Kubota. Their products are smooth and for heavy work.
17. AlphaSports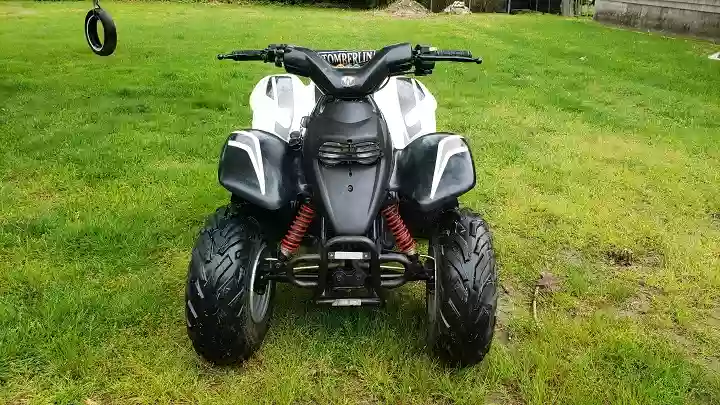 AlphaSports makes ATVs, trail bikes, scooters, and more. Now AlphaSports is a joint venture of the Tomberlin Group.
AlphaSports ATVs are now not a popular brand in the ATV market; that's why you might not have heard AlphaSports ATV's names ever.
The 2005 AlphaSports Kolt 90 was a famous Youth ATV model from AlphaSports. AlphaSports ATV brand produced many more Youth ATVs in the market.
Most Reliable ATV Brands
Trying to find the most reliable ATV brands is worth it because, whether you need an ATV for yourself or your kids, you have to get an ATV from reliable brands.
Not every brand is reliable. That's why you must consider every feature of an ATV before buying a four-wheeler.
Here are the five most reliable ATV brands:
Polaris – American all-terrain vehicles brand Polaris makes their ATVs super powerful with proper safety features and technology. Polaris manufactures quads for the U.S. military, and they consistently make their ATVs more durable to save ATV operators in a bad situation.
Yamaha – For durability and reliability, Yamaha comes up at the top of the list. Yamaha ATVs remarkable braking system, suspension, and power make them very safe and reliable.
Suzuki – Suzuki ATVs are designed to take lots of damage. In any terrain condition, Suzuki ATVs are capable of carrying you safely. Some reliable ATVs are Suzuki QuadSport, Suzuki QuadRacer, and the Suzuki KingQuad.
Can-Am – Although we all know Can-Am is an expensive ATVs brand, you should also know their ATVs are durable and of great quality. So for your safety ride, you can also choose Can-Am ATVs because they are reliable.
Conclusion – ATV Brands
Now you know the ATV brands and the most reliable ATV brands that you can get for yourself. You should know all ATV brands and their history when you are an ATV lover.
Many ATVs brands decrease their ATV productions, and many brands are increasing their ATV productions and doing business worldwide. 
Four-wheelers are getting more popular gradually for sports, recreations, and off-road tours. That's why ATV brands now bring new technology to make reliable ATVs.
When we find new ATV brands in the market, we will update that ATV brand's information and history here.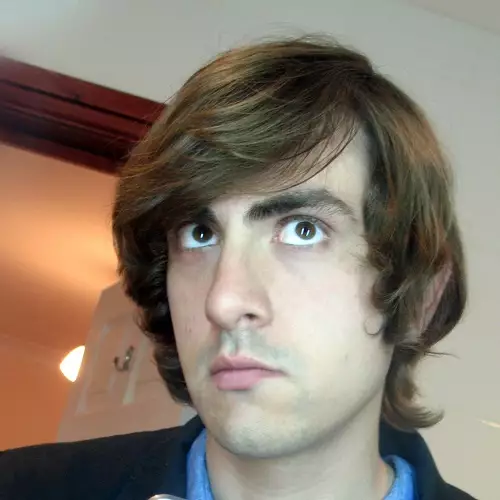 Calvin Anderson, founder of Off-Road Lord, is a seasoned off-roading enthusiast from Tucson, Arizona. With over a decade of hands-on experience and a deep understanding of off-roading vehicles and trails, Calvin's insights provide a trusted guide for fellow adventurers.