UTV brands have revolutionized not only the off-road experience but also the work productivity. From the robust American UTV brands to the innovative Japanese UTV manufacturers, they produce side-by-side for different purposes each year.
In this comprehensive guide, you will find the top UTV brands around the world and the UTV brands you need to stay away from.
Moreover, I will be providing information about cheap UTV brands with several tips on choosing the right UTV brand. So, it's time to get familiar with all the UTV brands and their best models.
UTV Brands in 2023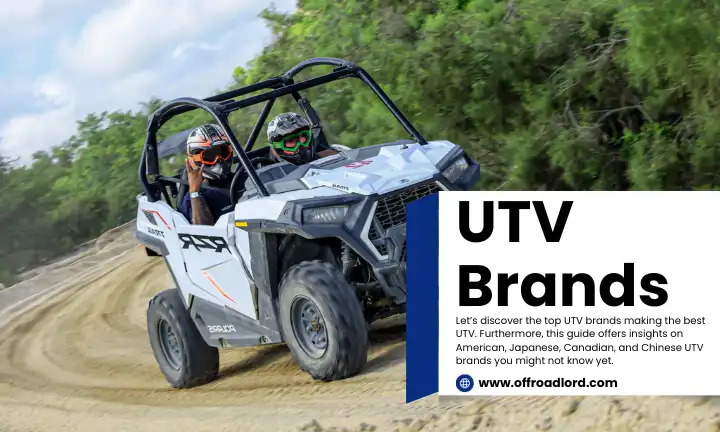 As of 2023, American LandMaster, Arctic Cat, Polaris, Can-Am, Intimidator, Yamaha, Honda, Kymco, John Deere, Kawasaki, and CFMoto are globally recognized as the leading brands in the utility task vehicle (UTV) industry. While numerous other manufacturers worldwide produce UTVs and side-by-sides, they have not yet achieved the same level of prominence as these established brands.
Here is the complete list of UTV brands:
Arctic Cat
John Deere
Polaris
Kawasaki
Honda
Can-Am
Kymco
Hisun Motors
BMS Motorsports
Yamaha
Quadix
American LandMaster
CFMoto
Tomcar
Intimidator
Massimo Motor
Linhai
Segway Powersports
Kubota
SSR Motorsports
Gravely
Bad Boy Mowers
Club Car
kioti
Bobcat
Alke'
Cub Cadet
New Holland
Coleman Powersports
ODES Powersports
Toro
SHERP
Goupil
JCB
Daymak
Oreion Motors
Want to dive deeper? Let's explore these top UTV brands together for a more insightful look!
1. Arctic Cat
Arctic Cat is one of the best UTV brand with a rich heritage. The company was founded in 1960, and in 2017, Arctic Cat became a part of  Textron Inc.
Arctic Cat, an American brand specializing in utility task vehicles (UTVs), operates its manufacturing facilities in Thief River Falls, Minnesota.
Back in 2005, Arctic Cat jumped into the side-by-side UTV industry and launched their first side-by-side in the same year. Before that, producing ATVs and snowmobiles was the brand's primary focus.
The Prowler and Wildcat are the notable models of Arctic Cat. The Prowler is a utility model with a large rear-mounted box similar to a pickup truck bed, mainly intended for utility and farm use. On the other hand, the Wildcat is a high-performance model aimed at high-speed trail riding.
The Arctic Cat Prowler Pro is the most popular UTV model from this brand. It's perfect for both work and play. Whether you're hauling farm supplies, pushing snow, or heading to a hunting spot, it's designed to be both powerful and quiet, making it your go-to for any task.
Arctic Cat UTVs are primarily designed for practical uses such as farm work and hunting. They offer high ground clearance, low gear ratios for towing, and large steel racks for hauling.
Popular UTV models from Arctic Cat with prices:
The Arctic Cat Prowler Pro – starting at $14,599
The Arctic Cat Prowler Pro Ranch Edition – starting at $16,399
The Arctic Cat Wildcat XX – starting at $23,199
The Arctic Cat Prowler Pro S – starting at $14,599
The Arctic Cat Prowler Pro Crew LTD – starting at $20,999
2. John Deere
John Deere is a leading American company specializing in manufacturing agricultural, construction, and forestry machinery, including tractors, combine harvesters, and other heavy equipment, with a history dating back to 1837.
So, it's not a surprise to think about farming when you and I heard about John Deere, especially if you live in the USA. But John Deere also produces heavy-duty UTVs.
John Deere's first utility terrain vehicle was The Gator in 1992. Since then, this model has existed with the brand. The Gator lineup was built to hustle on farms, worksites, and ranches.
John Deere offers different Gator models, all designed primarily for farming tasks. They are easily recognizable by their classic green color.
Now, John Deere offers different Gator models in various categories like work series, electric work vehicle, mid-size crossover, full-size crossover, and, of course, all designed primarily for farming tasks. They are easily recognizable by their classic green color.
The company focuses on producing UTVs that excel in their intended roles, specifically farming and work-related tasks, and they are expected to continue being reliable in the future.
John Deere UTVs are available at the price range from $11,899 to $43,149. But, if you're eyeing that top-notch Gator model for your farm, just a heads-up—you'll probably be spending over $22,000.
Top selling John Deere UTVs:
John Deere Gator XUV835R  – starting at $36,499
John Deere Gator XUV835M – starting at $22,000
John Deere Gator XUV560E – starting at $12,999
3. Polaris
Founded in Roseau, Minnesota, Polaris Inc. initially gained traction in the snowmobile industry before diversifying into all-terrain and utility vehicles.
Polaris is a big deal in the UTV industry because they are legendary. In 1999, Polaris launched their first RANGER side-by-side as a 6×6. They designed it that way to make sure it qualified as an off-road vehicle. And the best part? It could go faster than 25 mph!
In 2016, Polaris secured a $6.5 million contract with the U.S. Marine Corps for 145 MRZR-D Utility Task Vehicles (UTVs), reinforcing the brand's commitment to rugged, reliable off-road vehicles.
When it comes to reliable UTVs, Polaris is the go-to brand. They even develop and produce their own "Liberty" line of engines in-house.
Now, Polaris has something for everyone. They offer three different UTV model lineups to cater to various customer needs. The lineups are The RZR, General, and Xpedition.
The Polaris RZR models are lead in the sport side-by-side (SxS) market, offering a range of UTVs designed for various terrains and user needs. This lineup of UTV models focuses on three key aspects: performance, strength, and speed.
The Polaris General is a crossover side-by-side (UTV) model lineup that combines versatility, comfort, and performance. They are designed to be both a workhorse and an adventure vehicle, offering impressive towing capabilities, seating for up to 4 people, and a dump box for various tasks.
Lastly, The Polaris Xpedition UTV lineup is designed to be a versatile and robust off-road vehicle, perfect for adventurers who crave both comfort and capability.
Best-selling Polaris UTVs:
Polaris Ranger Crew XP 1000 – starting at $20,299
Polaris General XP 1000 – starting at $24,499
Polaris Ranger 500 – starting at $36,499
Polaris Ranger XP 1000 Premium – starting at $19,999
Polaris RZR XP 1000 – starting at $21,899
4. Kawasaki
I'll never forget seeing a Kawasaki UTV in my neighborhood as a kid. It was the first real UTV I ever saw, and let me tell you, Kawasaki UTVs are still as cool and tough as ever!
Kawasaki is a Japanese side-by-side brand, but the company manufactures plants in Lincoln, Nebraska, and Maryville, Missouri. So, they're making those tough UTVs right here in the U.S.
Kawasaki currently offers two distinct utility task vehicle (UTV) model lineups: the MULE and the TERYX.
The Kawasaki MULE™ UTVs are designed for versatility and durability. Whether you need a vehicle for tough jobs or for moving a crew, the MULE lineup has something to offer. This lineup offers 2-passenger, 3-passenger, and up to 6-passenger UTV models.
On the other hand, The Kawasaki Teryx lineup is designed to tackle tough terrain with a strong and durable family of recreational and sports side-by-sides.
Kawasaki UTVs are known for their reliability and efficiency. Not only that, their machines are affordable and offer good value for the price.
The most popular Kawasaki side-by-sides are:
 The Kawasaki MULE PRO – starting at $16,399
 The Kawasaki MULE PRO-FXT™ 1000 – starting at $20,299
 The Kawasaki TERYX KRX®4 1000 – starting at $27,499
 The Kawasaki MULE PRO-DXT™ DIESEL- starting at $18,999
Heads Up: Kawasaki was actually the first foreign vehicle maker to set up a manufacturing plant right here in the U.S.A.
5. Honda
If you are an off-roading enthusiast or freak like me, you most probably heard the word "Pioneer." The reason I told you that is because the Honda Pioneer side-by-side lineup has been dominating the UTV industry for decades now.
Honda is a Japanese brand that is familiar to you for their cozy and affordable sedan cars. But Honda has a good chunk of stake in the off-roading sector since they manufacture ATVs, UTVs, and dirt bikes.
With the Odyssey, Honda made an entrance into the UTV market back in 1976. Still today, they are best known for reliability and durability worldwide.
In response to the growing interest and escalating popularity of off-roading activities, Honda made a strategic decision to focus on UTV production in a significant way starting in 2009.
Recognizing the potential of the off-road market, the company invested in research, design, and manufacturing capabilities to produce UTVs that would meet the demands of enthusiasts and professionals alike.
Currently, Honda produces two UTV model lineups; one is TALON, and the other one is PIONEER.
The Honda PIONEER lineup SXS is mainly for utility, which means they are mostly used for farming, hunting, and touring vehicles and are all about work.
Meanwhile, the Honda TALON model lineup UTVs are for sport, and they are all about speed and decent performance on any trail.
Top-selling Honda SXS:
Honda Pioneer 1000-5 Deluxe – starting at $20,299
Honda Pioneer 700-4 Deluxe – starting at $13,399
Honda Talon 1000 R Special Edition – starting at $26,099
 Honda Pioneer 1000-5 – starting at $18,899
6. Can-Am
Can-Am is a Canadian UTV brand that is a subsidiary of Bombardier Corporation. This brand is all about speed and efficiency.
The Maverick model lineup is the most famous sport side-by-side, produced by this Can-Am brand. So, you can imagine the level of precision and care that goes into crafting these off-road machines.
Can-Am offers a versatile range of side-by-side (SxS) vehicles designed for various uses like racing, work, mud adventures, and more.
The lineup is engineered to handle any off-road situation. For instance, the Defender is built for heavy-duty work, while the Maverick R is designed for unparalleled off-roading performance.
The average price of Can-Am side-by-side is around twenty thousand USD. So, you can tell their UTVs are expensive, that's right, but they are worth the price that I can tell you from my own experience.
The 3 best UTVs from Can-Am:
Can-Am Maverick X3 X RC Turbo RR 72 – starting at $32,899
Can-Am Maverick X3 MAX DS Turbo 64 – starting at $25,099
Can-Am Commander X MR – starting at $22,599
7. Kymco
Kymco (Kwang Yang Motor Co, Ltd) is a Taiwanese powersport brand. KYMCO is a globally recognized brand known for its high-quality scooters, motorcycles, ATVs, and Side by Sides.
In the United States, the brand's products are exclusively distributed by KYMCO USA INC. KYMCO USA operates its sales, marketing, and distribution center in Spartanburg, South Carolina.
Kymco has a range of side-by-side models that fall under two main categories: the UXV 450i Series and the UXV 700 Series.
They make mostly utility UTVs since every model comes with a dump bed and maximum towing capacity.
Kymco's UTVs are pretty budget-friendly, with prices ranging from $7,999 to $10,999. But don't let the affordable price tag fool you! Their side-by-side engines are way better than you'd find in Chinese UTVs.
Kymco UTV models with current price:
The Kymco UXV 450i LE – starting at $8,799
The Kymco UXV 700i LE – starting at  $10,399
The Kymco UXV 450i LE Hunter – starting at $10,399
The Kymco UXV 700i LE Prime – starting at $10,999
The Kymco UXV 700i LE Hunter – starting at $10,999
Hints: KYMCO started as a company in 1963 when it split off from Honda. Back then, it used to make parts for Honda bikes.
8. Hisun Motors
Hisun Motors is a U.S.-based company that's making noteworthy contributions to the UTV industry. They offer both electric and diesel UTVs, giving you some great options to choose from.
They established a significant presence with a 300,000 sq-ft headquarters in McKinney, Texas, solidifying its role as a major powersports supplier.
Hisun offers a complete line of unique and versatile UTVs and ATVs. But, their UTV models are more popular around the globe.
Hisun side-by-sides offer decent quality and performance at a mid-range price point. While they may not be a top choice for those with unlimited budgets, they are a good option for newcomers looking for a low-risk investment in a side-by-side.
Compared to other side-by-side brands, Hisun is a fairly new company with a great reputation so far. So, we can expect the product to improve as time goes on.
Most selling Hisun UTVs:
Hisun Strike 1000 EPS – starting at $14,599
Hisun Motors Sector E1 – starting at $11,599
Hisun Strike 500R – starting at $10,999
9. BMS Motorsports
BMS Motors, or BMS Motorsports, is an American-made UTV brand based in Riverside, California, United States. Since 2005, this company has produced UTVs specifically for the American market.
You might not yet be familiar with this brand, but their machines are gradually gaining popularity. I myself didn't know about this brand until two years ago when a friend introduced me to it at a sports event. I was definitely impressed by its power and mobility.
Based on both the owner's feedback and my own experience, it appears that BMS Motorsports' side-by-sides are not far behind other leading UTV brands like Honda, Polaris, and Can-Am when it comes to efficiency and durability.
Like other brands, BMS Motors has two model lineups: utility and sport. As we know, utility models are mainly for work, and sports models specialize in speed and performance.
What sets BMS Motors' UTVs apart is their competitive pricing. Despite offering the same features as other brands, you'll notice a significant difference in cost.
Popular UTVs from BMS Motorsports:
BMS RANCH PONY 600 EFI – starting at $9,999
BMS STALLION 600 RX-EFI – starting at $10,499
BMS COLT 700 LSX 4S – starting at $14,499
BMS SNIPER T-1500 2S – starting at $15,499
BMS SNIPER T-350 – starting at $6,499
10. Yamaha
Yamaha does not need any introduction since they are the top-rated UTV brand in the world. As a pioneer in the side-by-side field, Yamaha ensures their product's quality in every aspect.
The Rhino 660, introduced by Yamaha in 2003, was the company's first UTV and remained in production until 2012. This model helped Yamaha make a name for themselves in the off-roading sector, as the Rhino 660 gained global popularity.
Yamaha has a bunch of different side-by-side models, each designed for something specific. Whether you're into off-roading for fun or need a UTV for some heavy-duty work, they've something for you.
Currently, Yamaha produces UTVs in three categories and purposes: pure-sport, recreation, and utility.
The Yamaha YXZ1000R lineup specializes in pure-sport UTVs, engineered for high performance and extreme off-roading adventures. These UTVs come equipped with a powerful 998cc inline three-cylinder engine and a 5-speed sequential shift manual transmission—the ultimate choice for the UTV racer.
Yamaha produces all the recreational UTVs under the Wolverine lineup. They are more of a sport-utility vehicle designed for off-road adventures. Also, they come with a compact chassis for agile handling and a variety of engine options.
Lastly, there's the Yamaha Viking, which is part of their utility lineup. Designed for both work and play, the Viking has a powerful 686cc engine and seating for up to six people.
Top Yamaha side-by-side with current price:
Yamaha YXZ1000R SS – starting at $20,899
Yamaha Wolverine RMAX2 1000 XT-R – starting at $26,199
Yamaha Wolverine X2 1000 XT-R – starting at $19,999
Yamaha Wolverine X2 850 XT-R – starting at $17,399
Yamaha VIKING VI EPS RANCH EDITION – starting at $17,899
11. Quadix
Quadix is a German side-by-side brand that is famous in Europe mostly. You can get one of their UTVs from their dealers.
Quadix primarily focuses on producing utility UTVs, which means their vehicles are designed for tasks like plowing, hauling, towing, hunting, and fieldwork.
In addition to that, Quadix is a diesel UTV brand, so they are not offering any electric UTV yet.
Kubota, a well-known agricultural machinery company, makes Quadix UTVs engines.
UTVs from Quadix:
QUADIX TROOPER – starting at $15,000
QUADIX T-BOSS 575 – starting at $12,500
12. American LandMaster
As the name of the company is self-explanatory, American LandMaster is an American side-by-side manufacturer.
The company has a rich history in the off-roading industry. Founded in 1967 as Manco Products, the company initially focused on mini-bikes and go-karts. The company was purchased by Ambassador Enterprises in 2014 and rebranded as Landmaster in 2017.
Since getting new leaders in 2019, American LandMaster stopped making go-karts and now only makes UTVs. That is why you may not yet be familiar with their UTVs.
The good thing about American LandMaster is they provide full protection of your vehicle for one year as a warranty. And they also sell their official UTV parts too.
American LandMaster produces entry-level to heavy-duty UTVs at price ranges as low as $6,999 to as high as $19,999 in the current market.
Popular UTVs from American LandMaster:
American LandMaster L7 (X) Crew – starting at $15,000
American LandMaster L5 – starting at $15,000
American LandMaster L7 (XL) PRO – starting at $15,000
 American LandMaster AMP – starting at $15,000
13. CFMoto
You must have heard of the best Chinese side-by-side brand, CFMoto. Their machines are popular all over the world.
CFMOTO was founded in 1989 initially as an engine manufacturer. They have always held a significant presence in China, including supplying government vehicles for police and fire departments.
In 2007, CFMOTO USA's headquarters were established in Plymouth, MN. The U.S. headquarters features full sales, marketing, vehicle development, design, parts and accessories, tech support, and domestic shipping and receiving departments.
CFMOTO entered the U.S. market in 2002, bringing ATVs and Side X Sides (SXS). But, CFMOTO's vehicle lines are manufactured in Thailand and China, with plans to open a new manufacturing facility in Mexico in 2024.
You've got two main families to know about CFMoto UTVs: ZFORCE and UFORCE. ZFORCE is where you'll find all the sporty side-by-sides, built for speed and thrills.
On the other hand, UFORCE is all about utility, designed for work and getting things done. But, between both lineups, the UFORCE lineup or utility side-by-side brings all the profit to the company since they are the most popular.
Although our judgment came right after hearing about the "Chaines brand," CFMoto's resilience over the last decades differentiated this brand from the rest of the Chinese UTV brands.
If you are someone who is buying a UTV for the first time with zero prior experience, then considering CFMoto UTVs can be a great option as they are budget-friendly and reliable, too.
Most Popular CFMoto UTVs:
CFMoto ZFORCE 800 TRAIL – starting at $12,799
CFMoto UFORCE 1000 – starting at $12,999
CFMoto UFORCE 1000 XL – starting at $14,999
CFMoto ZFORCE 950 TRAIL – starting at $13,999
14. Tomcar
Have you ever heard about an Israeli off-road or utility vehicle manufacturer? Well, I did not until a couple of months ago. The Tomcar is an Israeli commercial off-road utility vehicle manufacturer.
The brand originated from a top-secret mission in 1967. Tomcar is known for ultra-dependable, highly functional, all-terrain vehicles.
Tomcar claimed their side-by-sides are the most durable and also the most reliable on the earth. All vehicles start with a fully welded roll cage and frame for safety. And interestingly, they offer a lifetime warranty on the frame.
Their most popular model is TX. The TOMCAR TX features 14 inches of suspension travel and independent wheel movement for a smoother ride. And the machine can run on Gas or Electric and also has a 17-inch ground clearance.
Tomcar's North American headquarters is located in Phoenix, Arizona. So, you can get one of their heavy UTV in the U.S. too.
Tomcar UTV Models:
Tomcar TX
Tomcar TM
Tomcar TE
15. Intimidator
Intimidator is another American-made UTV brand. Intimidator's headquarters are located in Batesville, Arkansas, serving as the primary manufacturing site for their utility vehicles.
The company was founded in 2013 by successful entrepreneurs Robert and Becky Foster. Now, Intimidator's dealers are available in most states of the United States.
They produce world-class 4X4 side-by-side utility vehicles that excel in strength, power, and performance while maintaining affordability.
In addition to their UTVs, Intimidator also collaborates with partners like Bad Dawg Accessories and GroundHog MAX to offer a robust selection of aftermarket accessories. Intimidator also owns both of these accessories companies.
Their products are made with premium steel and assembled using both U.S. and global parts.
They have not been in the UTV market for a decade, so we can consider them a new brand. But they already created a fan base in the UTV community.
Intimidator manufactures side-by-side by targeting the utility market. So, all the models are utility UTVs.
Popular CFMoto SXS:
Intimidator GC1K – starting at $17'599
Intimidator Classic – starting at $16,299
Intimidator GC1K Truck – starting at $22,499
Intimidator Truck – starting at $20,099
Intimidator Classic EV – starting at $19,199
16. Massimo Motor
Massimo Motor is a U.S.-based company that lives by the slogan "Powerful, Affordable, Reliable." The brand may not be super popular yet, but it's definitely catching the attention of off-road enthusiasts.
Massimo Motor was founded in 2009 and has since grown substantially. Their operations are based in a sprawling 325,000-square-foot factory in Garland, Texas, in the heart of the Dallas/Fort Worth area.
Currently, they offer a diverse and value-packed line of products, including Utility UTVs, recreational ATVs, and Americana-style mini-bikes, which have been farm and ranch tested.
Massimo Motor has four different UTV model lineups: T-BOSS, WARRIOR, MSU, and BUCK. And under each of these lineups, you will find several models.
Among these lineups, the T-BOSS and WARRIOR are the most common. Massimo Motor has not yet put its hand on sports UTVs, so they only produces utility UTVs.
Top-rated Massimo Motor UTV Models:
Massimo Motor T-BOSS 760 – starting at $12,499
Massimo Motor MSU 850 – starting at $13,999
Massimo Motor WARRIOR 1000 MXD CREW – starting at $21,999
Massimo Motor BUCK 450 – starting at $8,999
Massimo Motor T-BOSS 560 – starting at $10,299
Massimo Motor MSU 850-5 – starting at $15,999
17. Linhai
Linhai is a famous Chinese UTV manufacturer. Founded in 1956, Linhai is among the earliest domestic companies that specialized in researching and producing small power and supporting machinery.
In 1994, they hit a big milestone by teaming up with Yamaha Motorcycle Co., Ltd., in a joint venture between China and Japan. It was a pretty big deal in their history.
Their product line extends from gasoline ATVs to Diesel UTVs, encompassing off-road vehicles, 4x4s, and rental ATVs. But, compared to other Chinese UTV brands like CFMoto, Linhai UTVs are not so popular, particularly in the U.S.
Linhai focuses exclusively on utility side-by-sides. However, their range is limited; they currently offer just four models.
Linhai UTVs:
T-BOSS 550
LH1100U-D
T-ARCHON 200
T-Archon 200
18. Segway Powersports
Segway Inc. is a company that was originally founded in the United States but is now owned by a Chinese corporation. The company was founded in 1999.
Segway Inc. maintains its headquarters in New Hampshire, where a significant portion of its production activities also take place.
Their product lineup includes All-terrain vehicles, Utility Side by Sides, Sport Side by Sides, and On-road vehicles.
The famous sport side x side VILLAIN is made by Segway Powerports. This brand doesn't just specialize in sports models; they also offer several utility models that are as durable and powerful as their VILLAIN model.
Segway produces utility UTVs under the UT lineup. But, the options to choose from are limited.
Segway UTVs:
Segway VILLAIN – starting at $14,699
Segway UT10 S CREW – starting at $14,999
Segway UT10 P CREW –  starting at $16,999
Segway UT 10 – starting at $14,899
19. Kubota
Kubota is a well-known Japanese brand specializing in heavy equipment, machinery, and agricultural products. Today, Kubota is a global leader in the industry, with a presence in over 100 countries.
Kubota offers a range of utility vehicles designed for various residential and commercial activities.
Their UTVs are known for their reliability, agility, and performance. The lineup includes mid-size, full-size gas, and full-size diesel models.
Best Kubota UTVs:
KUBOTA RTV-X1100C
KUBOTA RTV-X1140
KUBOTA RTV-X900
KUBOTA RTV-X1120
20. SSR Motorsports
SSR Motorsports was founded in 2002 with the aim of importing and distributing powersports products. This United States-based brand conducts all the manufacturer's activities in China.
SSR Motorsports has built a stellar reputation for offering well-engineered products at affordable prices.
Their side-by-side prices start from below five thousand bucks to the highest of eleven thousand bucks.
While I wouldn't go as far as to say that SSR Motorsports is the best budget-friendly side-by-side brand out there, they do offer moderate-quality UTVs within this price range.
On top of that, they offer a wide variety of options to choose from, and they have dealerships scattered all across the United States.
Popular SSR Motorsports side-by-sides:
BISON 200P – starting at $6,599
SRU170RS – starting at $4,459
BISON 400U XL – starting at $10,799
BISON 400U – starting at $8,499
BISON 500U – starting at $10,999
21. Gravely
Gravely is an American UTV brand that is owned by Ariens Company. The company has a history of over 100 years of innovation.
The name Gravely is not yet common in the UTV community all over the world and not even in the United States because they have produced a limited number of side-by-side so far.
On top of that, they only make heavy-duty utility UTVs. Gravely side-by-sides do not come cheap.
To get a model, you must count more or less twenty grand. So, these are the main reasons that most of us are not so familiar with the Gravely brand.
Despite the higher price tag, their UTVs are both durable and powerful, making them ideal choices for a range of activities, including farming, touring, and hunting.
Gravely Top Side-by-Sides:
Gravely ATLAS JSV® 3400 – starting at $19,199
Gravely ATLAS JSV® 6400 – starting at $21,999
Gravely ATLAS JSV® 3400 SD – starting at $19,999
22. Bad Boy Mowers
Bad Boy Mowers is a company that specializes in manufacturing zero-turn mowers. But the brand also has several heavy-duty utility UTVs.
Bad Boy Mowers is an American-made UTV brand but not as popular as other American UTV manufacturers since they are more well-known for world-class mowers.
Currently, the brand only offers two side-by-side, and both are utility, so there is nothing for you if you are looking for speed.
The Bandit Side By Side is engineered for those who seek top-notch performance and reliability. The machine comes with two engine options: a 545cc or a 735cc, catering to different power needs.
Bad Boy Mowers UTVs:
Bad Boy Bandit 550
Bad Boy Bandit 750
23. Club Car
Most of us might know the Club Car brand from golf carts. That's understandable since the brand produces the most efficient and top-notch golf carts around the world.
But Club Car also manufactures utility vehicles now. Some of their models are already very popular around the nation.
The brand is heavily investing in the utility vehicle sector to catch up with the already established competitors.
The company specializes in manufacturing utility UTVs and offers various street-legal models.
Club Car side-by-sides:
Club Car CARRYALL 1500
Club Car URBAN
Club Car CARRYALL 1700
Club Car CARRYALL 510 LSV
Club Car CARRYALL 710 LSV
24. Kioti
Founded in 1947 and headquartered in Daegu, South Korea, Daedong Corporation is a leading agricultural machinery manufacturer. In the United States, the company is known by the brand name Kioti.
Kioti focuses exclusively on the utility market when it comes to UTV production, meaning you won't find any sports UTVs in their lineup.
The company produces side-by-sides under two distinct lineups: MECHRON and K9.
The most popular Kioti side-by-sides are:
MECHRON® 2200
K9 2440
K9 2400
MECHRON® 2240
25. Bobcat
Bobcat is a global brand with manufacturing facilities and employees worldwide, specializing in compact equipment for various industries like construction, agriculture, and landscaping.
Doosan Bobcat, the parent company, has been in the business for over 60 years and leads the global compact equipment market. The brand is famous for heavy equipment machines used in construction.
Along with construction machinery, Bobcat has introduced four UTV models so far. Each machine has great power, and most importantly, the durability is worth mentioning.
Interestingly, each model is available in gas and diesel engines. So, you have the freedom to choose without sacrificing any features.
As of now, Bobcat hasn't ventured into the production of sports side-by-side. But who knows, we can expect their speedy UTVs in the future.
Bobcat UTV Models:
UV34 Gas
UV34 Diesel
UV34XL Diesel
UV34XL Gas
26. Alke'
Alke' is an electronic UTV brand that originated in Italy. This is a new company that is not so popular around the globe.
The brand only produces electric utility side-by-side. Alke's electric UTVs are powerful enough to carry up to 1,630 Kg and tow up to 4,500 Kg.
In addition to that, UTVs are equipped with an 8 kW electric motor that can peak at 14 kW; the vehicle can work seamlessly in demanding situations.
Alke UTVs are mostly used in tourism, agriculture, logistics, and other sectors.
Alke' UTVs:
27. Cub Cadet
Cub Cadet is an American UTV brand that is famous for outdoor power equipment around the nation.
The company manufactures the heavy-duty utility SXS. Worldwide, Cub Cadet has a good reputation for durable and reliable machines.
Cub Cadet UTVs are getting popular with farm owners and construction sites because they are affordable and very powerful at the same time.
This is another reason why Cub Cadet UTV's resale value is higher than other brand's UTVs that you might notice if you tried to buy their UTV from an owner.
Balancing quality with affordability is a tough act, but Cub Cadet has consistently delivered on their promise.
Currently, around ten UTVs are available to buy from them, and the price range between $11,499 to $16,799.
Best Cub Cadet UTV Models:
Cub Cadet Challenger MX 750 EPS – starting at $16,499
Cub Cadet Challenger M 550 – starting at $11,499
Cub Cadet Challenger MX 550 – starting at $14,499
Cub Cadet Challenger M 750 EPS – starting at $13,499
28. New Holland
New Holland is a highly prestigious agricultural machinery company that has been here for over a hundred years.
Frankly, you can consider New Holland a side-by-side brand, but I mentioned this company name in the list of UTV brands because it also manufactures UTVs.
New Holland machines are all about maximizing power and performance. The brand now has only one The Rustler UTV lineup.
The Rustler UTV is available with options for either two or four passengers. The UTV has a total load capacity of 1500 lbs.
New Holland UTV models:
Rustler 850 2-Passenger
Rustler 850 4-Passenger
29. Coleman Powersports
Coleman Powersports is an American side-by-side brand based in Mesquite, Texas.
Coleman started in 1900 when William Coffin Coleman began selling gas lamps in Oklahoma. Now, Coleman is a subsidiary of Newell Brands.
The company also offers a range of products, including ATVs, Dirt Bikes, Generators, Go Karts, Golf Carts, and outdoor motors.
However, Coleman Powersports entered the UTV market not many years ago. Therefore, they have limited options for you to choose your desired UTV.
Best Coleman UTVs:
Coleman UT400
Coleman UT550X
Coleman UT750X
30. ODES Powersports
If you are from around the state of Texas, you might know much more about this ODES brand than the rest of us. Because ODES Powersports, a UTV brand, has its headquarters and assembly facility located in Garland, Texas.
I was personally introduced to the ODES brand in Texas. But, the brand has dealers all over the nation.
ODES manufactures both utility and sport or performance side-by-side vehicles.
The brand produces UTVs under several lineups, including Ravager, Comrade, and Dominator.
From a pricing perspective, ODES offers mid-range UTVs that are priced between approximately ten and twenty thousand USD.
Top ODES Side-by-Sides:
ODES DOMINATOR X2 LT – starting at $15,199.99
ODES COMRADE 450 – starting at $9,399
ODES DOMINATOR X2 ST- starting at $12,999
ODES RAVAGER – starting at $14,999
ODES COMRADE 750 – starting at $12,499
31. Toro
Toro is a renowned name around the world since it operates in more than 125 countries through a network of distributors, dealers, rental stores, and retailers.
This company does it all! They create lawn mowers, snow blowers, utility vehicles, and even irrigation supplies. Whether you're a homeowner, a farmer, or even a city planner, they've got something for you.
Workman® GTX, Workman® MDX, Workman® HDX, and Workman® UTX are the four main series or lineups under which Toro produces UTVs.
You will find several models under each of the series to choose the right one for your purpose of work. And all the models are utility UTVs, which means they are only for work, not sports.
Best selling Toro UTVs:
Workman® HDX 4WD
WORKMAN UTX 4-PASS
Workman® MDX Utility Vehicle
Workman® GTX Extended
32. SHERP
SHERP is a Ukrainian brand that manufactures big-size utility task vehicles. However, each model is notably versatile and capable of efficient operation both on terrestrial terrain and aquatic environments.
QUADRO INTERNATIONAL is the developer and manufacturer of SHERP utility task vehicles.
SHERP vehicles are designed for professionals like geologists, oil workers, rescue agents, fishermen, hunters, extreme drivers, and travelers.
The brand's utility vehicles are, on average, 13'1 long, 8'4" wide, and 9'7″ tall. I'm talking about gigantic-sized machines. And the price of these UTVs starts from $149,995.
SHERP Utility Vehicles:
Sherp Pro XT – starting at $150,000
Sherp Ark – starting at $375,000
33. Goupil
Goupil is a French-based company that specializes in designing and manufacturing compact electric utility vehicles.
The company has been in operation since 1996 and is located in the Southwest of France.
All Goupil models are entirely customizable and cater to various sectors such as local councils, industry, leisure, small businesses, logistics, and last-mile deliveries.
They offer a range of electric utility vehicles, including the G2, G4, and G6 models. Goupil has been a part of the Polaris Group since 2011.
Their electric utility vehicles are used in more than 40 countries worldwide. So, you might find a couple of Goupil in your area, too.
Goupil UTV Models:
34. JCB
The name WORKMAX is particularly familiar to those who use UTVs for work. As JCB's sole product in this category, WORKMAX maintains the brand's global relevance in the UTV market.
JCB WORKMAX is a versatile vehicle used in many areas like golf courses, farms, construction, and events.
The WORKMAX range offers multiple models to cater to different needs, such as the JCB WORKMAX 800 D, which is ideal for a variety of medium-duty tasks.
The JCB WORKMAX 1000 D is a more robust and powerful option built for handling tougher tasks.
The WORKMAX 6×4 is specifically designed for delicate surfaces like golf courses; this variant provides optimal care to avoid turf damage.
JCB UTV models:
JCB WORKMAX 1000 D
JCB WORKMAX 800 D
JCB WORKMAX 6×4
35. Daymak
Daymak is a Canadian brand that offers various products, including utility vehicles.
Let's be real; this brand isn't exactly a household name in the UTV world. Why? Well, their stuff is pretty pricey, and they don't offer a ton of models.
The Daymak Beast UTV is a versatile ride that's perfect for both work and play. With features like a dump bed and a winch, it's practical for tasks at your cottage or on the job.
Daymak Side-by-Sides:
Daymak UTV 2-seater – starting at $18,999
Daymak UTV 4-seater – starting at $19,999
36. Oreion Motors
Oreion Motors is a side-by-side brand based in the United States. All vehicles are assembled in the company's New Mexico plant.
Founded in 2011, Oreion Motors is a relatively new player in the industry but has quickly become a favorite among consumers.
Oreion Motors was established with the goal of creating an all-terrain vehicle that is not only suited for off-road use but can also be driven on the streets.
And the company accomplished its goal. Oreion's Reeper Series is designed for multi-purpose use, capable of delivering exceptional driving experiences both on and off-road.
The brand builds vehicles that are dependable, easy to use, and maintain. Oreion Motors' UTVs offer a sporty appearance but aren't as fast as other sports UTVs currently on the market.
Oreion UTV Models:
Reeper
Reeper 4
Reeper Sport
FAQs about UTV Brands
What brands make youth UTVs?
Polaris and HiSUN are the leading brands in the youth UTV market. While other brands offer youth models, these two are most notable for their extensive range tailored for younger riders.
Which UTV brand has the most accessories?
Yamaha and Polaris lead the pack when it comes to UTV accessories. Arctic Cat, Honda, and American LandMaster also offer a good range of add-ons.
What is the best UTV brand?
Arctic Cat is often considered the best UTV brand, known for its durability, high performance, and innovative features.
What are the top-selling UTV brands?
The top-selling UTV brands in the market are Polaris, Yamaha, Arctic Cat, Can-Am, and Honda. These brands are renowned for their quality, durability, and wide range of options catering to both recreational and utility needs.
Which is the most reliable UTV brand?
When it comes to reliability, Honda is often considered the go-to brand in the UTV market. Their reputation for dependable engines and robust construction makes them a trusted choice for many.
What brands specialize in sport UTVs?
For those seeking high-performance and adrenaline-pumping experiences, brands like Arctic Cat, Yamaha, Polaris, and Can-Am specialize in sport UTVs.
Which brands are popular for hunting UTVs?
When it comes to UTVs designed for hunting, Yamaha and Polaris are the go-to brands. They offer specialized features that hunters appreciate.
Wrapping Up the Ride
Brands such as Polaris, Yamaha, Honda, Arctic Cat, Can-Am, HiSUN, and Kawasaki have long held a strong grip on the UTV market.
However, top UTV brands, as I mentioned earlier, are constantly fighting for market share as the competition rises.
American LandMaster, Intimidator, and Oreion Motors are emerging UTV brands that are gaining popularity worldwide. Thus, we can expect to see greater diversification in this industry in the future.
I must say, when it comes to making top-notch side-by-sides, even today, Yamaha, Arctic Cat, Polaris, and Can-Am are the names that everyone trusts.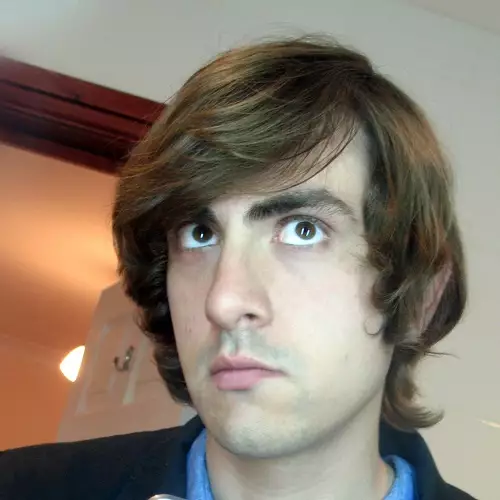 Calvin Anderson, founder of Off-Road Lord, is a seasoned off-roading enthusiast from Tucson, Arizona. With over a decade of hands-on experience and a deep understanding of off-roading vehicles and trails, Calvin's insights provide a trusted guide for fellow adventurers.