"What is a UTV" if this question also comes up in your mind, then you can learn everything about UTV in this article.
Because of the confusion of UTV, SxS (Side-by-Side), and four-wheeler terms makes it hard to understand what exactly a UTV is.
Almost all-terrain vehicle manufacturers produce UTV on the market, and the market size of UTV becomes huge gradually.
To property workers, hunting enthusiasts, and in various works, the use of UTV is very commonly noticeable.
Here we are going to know what a UTV is, what UTV stands for, all features on a UTV, popular UTV brands, the average cost of UTV, what a UTV is used for, and what makes UTV different from ATV.
What Is A UTV?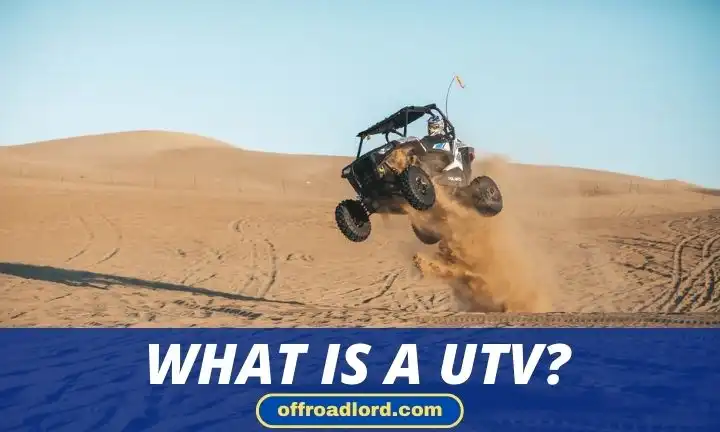 Utility Task Vehicle (UTV) is an off-roading vehicle that can carry over four to six passengers. UTV often refers to SxS (Side-by-Side). UTVs are used for heavy work, hauling, hunting, property work, and recreation.
UTVs are bigger than all-terrain vehicles (ATVs), so UTVs are capable of carrying more passengers.
UTV is driven by a steering wheel with gas and brake pedal, just like cars you drive on regular bases.
For driving safety, UTV is equipped with a cabin that keeps the rider safe in every situation.
Related: The List of Big Four-Wheelers
What Does UTV Stand For?
UTV stands for "Utility Task Vehicle," also called SxS (Side-by-Side), ROV (Recreational Off-Highway Vehicle), and 4×4 vehicles. In most cases, UTVs are mostly used for work rather than recreation.
UTVs come with bigger storage space, making this vehicle more work efficient.
Utility Task Vehicles or UTVs are more powerful and large enough to carry two to six passengers. And UTV controlling systems and features are identical to cars.
Almost all automotive manufacturers produce Utility Task Vehicles (UTV) all over the globe. 
What Features Are Typical On UTVs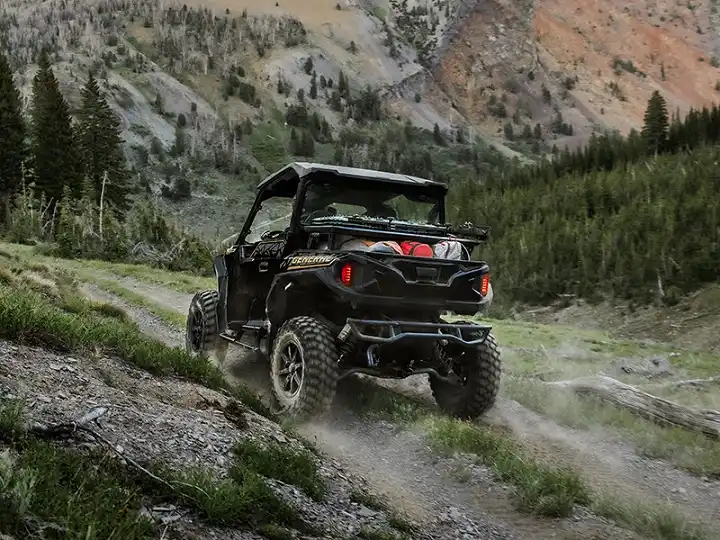 Bench seating, roll cage or bars, steering wheel, seat belts, foot pedals for gas and brake, and rear cargo area are the typical features of a UTV.
Here are all UTV features:
Steering Wheel
The steering wheel is the feature that marks UTV differently from ATV. Just like cars, UTVs also come with Telescoping steering wheels or Adjustable steering wheels.
As you know already, UTVs are bigger and more powerful than ATVs. That's why the steering wheel is applicable for this vehicle.
The steering wheel lets the driver control and balance the Utility Task Vehicle (UTV) in any terrain.
Roll Cage
The roll cage is a common feature in UTV, and for off-roading vehicles, the roll cage is essential.
A roll cage keeps the drivers and passengers safe on the UTV from being injured in an accident.
On some specific off-road terrain, UTVs can roll over where a roll cage or bar is going to protect its occupants.
Electric Bed Dump
UTVs are mostly work for work haul and various kinds of heavyweight carrying work, so unloading an electric bed dump makes the work easier.
Not every UTV has an electric bed dump feature, but some UTVs have it. UTV with an electric bed dump feature is going to cost more than the average UTV.
Bench Seating
Bench seating is a version of a sofa or couch seat on the vehicle. UTV has bench seating that gives passengers extra comfort.
UTV is also a recreational off-roading vehicle; that's why for long trips, bench seating is best.
Foot Pedals For Gas And Brake
On a utility task vehicle (UTV), you are going to find foot pedals for gas and brakes.
Just like you use foot pedals for acceleration and brake on the car, you also find that feature in UTV.
This common feature on UTV really makes it easier to drive a UTV for car owners. So, you don't worry too much about UTV gas and brake control.
Rear Cargo Area
Whether you call it rear cargo area or cargo boxes, you are going to find that on a UTV.
For carrying extra stuff, UTVs rear cargo area or cargo box is the best feature. 
Seat Belts
Seat belts are necessary for any vehicle, especially for off-roading vehicles. Seat belts are another typical UTV feature that keeps you safe and secure inside of a vehicle.
UTVs all seats have belts, including the driving seat, so buckle up before driving.
What Is A UTV Used For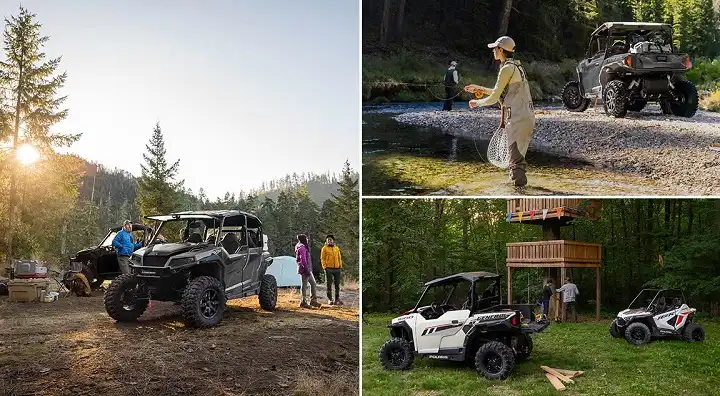 Utility Task Vehicle (UTV) is mainly used for hauling, property work, camping, recreation tour, hunting, heavy-duty work, and also for fishing.
Let's see the most common specific uses of UTVs:
1. Property Work
Nowadays, UTVs are the most convenient vehicle to do property work because UTVs are significantly more powerful than ATVs.
UTVs have cargo capacity where workers can carry mechanical tools and all types of necessary work materials.
UTV's towing capacity is between 2500 to 3000 pounds, and some UTVs have over 3000 pounds towing capacity.
2. Recreation Tour
For off-roading area recreation, you are going to need an off-roading vehicle, and where UTVs are the first choice.
UTVs are becoming popular for recreation because a UTV can carry 2 to 6 passengers, which is perfect for touring.
3. Hauling
On the construction side, development side, and any other workplaces, the uses of UTVs are very common. For big and powerful engines, UTVs are capable of heavy hauling.
4. Heavy-Duty Work
As you know, UTVs have a very high towing capacity; that's why it's also capable of heavy-duty work.
To do heavy-duty work, you need cargo space and a powerful engine that you can have on a Utility Task Vehicle.
Another reason why UTVs are also used for heavy-duty work is that UTVs are smaller than any other vehicle. So, moving a UTV is easy.
5. Hunting
UTVs are best for hunting because they make less noise and carry several hunting partners.
Several electric UTVs are currently available, and those are perfect off-roading vehicles for hunting so far.
6. Camping
After RV people use UTV for camping, UTV has cargo space, several passenger seats with seat belts, and a steering wheel that ensure a safe camping tour with family.
Different Types of UTV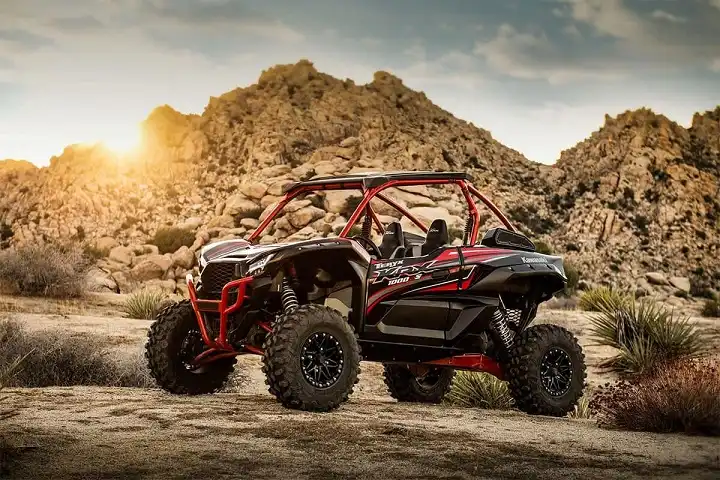 There are three types of UTV on the market right now: Crew Cab UTV, Sport UTV, and Youth UTV.
Sport UTV
Sport UTV is also known as sport SxS. Sport UTV is the fastest UTV among all types of UTV.
Usually, Sport UTVs are manufactured for sports; that's why this type of UTV is built with great performance.
Sport UTV or SxS comes with extreme suspension, high speed, combined acceleration, and super satisfying handling.
Sport SxS are typically ridden on the trail because, as you know already, they are better for UTV sports like rance.
Two seats with seat belts and no cargo space make sport UTV different from other types of UTV.
Because of various advanced features, sports UTVs' price range goes above at least $13,000.
Can-Am Maverick X3, Polaris RZR Pro XP 4 SxS, Honda Talon 1000X-4 SE, and Kawasaki Teryx KRX® 1000 are the most popular sport UTV.
For off-roading touring or work, sports UTVs are not really the best choice, although they have the strangest.
Youth UTV
Youth UTV or side-by-side are for ages above ten but not less than that.
Generally, youth UTVs come with several safety features that make these UTVs more secure and also comfortable to ride on all terrain.
In a youth UTV, you are going to find an adjustable speed limiter, protective roll cage, seatbelt, child-friendly performance, and more safety features that keep youth safe on the UTV.
Youth UTVs are getting more popular among youth off-road riding enthusiasts gradually.
Typically, youth UTVs do not come with only two seats and no cargo box. But some UTV manufacturers are producing youth UTV on the market with cargo space.
The average price range of youth UTVs is between $6,000 to $6,700. But the Chinese youth SxS price is less.
Polaris Ranger 150 EFI, Blade 170, Trailmaster 150X, and Trailmaster 150X, Pitster Pro Avenger are the most available youth UTV.
Crew Cab UTV
Crew Cab UTV has a unique look and features compared to other types of UTV or SxS.
Crew Cab UTV is a utility UTV that is mostly used for touring and also for recreational purposes.
This type of UTV is not very popular as other types of UTV, but Crew Cab UTV is best for various uses.
Crew Cab UTVs size is huge because it has four to six seats and a rare cargo area, making it the best touring off-road vehicle.
Compared to other SxS categories, Crew Cab UTV has significantly more power and also towing capacity because it needs to carry more weight.
You often see crew cab UTVs in construction areas, recreational areas, and a couple of different areas the most. Crew cab UTVs are now also becoming popular as family tours for four-wheelers also.
Crew cab UTVs are expensive, and not all off-roading vehicle manufacturers produce this type of UTV.
Average UTV Cost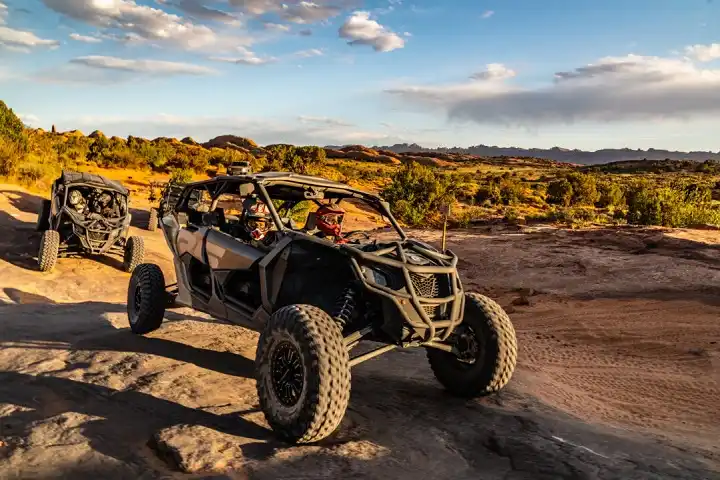 The cost of a UTV or side-by-side depends on various features and specifications. The average cost of a UTV is around $13,000 as of 2022.
Every UTV manufacturer produces a UTV model with specific applications, sizes, and for different purposes; that's why the price of a UTV varies depending on your demand.
As you know already, side-by-side are best for heavy dust, so the more power you need, the higher the price will be.
Sport and utility UTVs are more powerful than youth UTVs; that's why to get a utility UTV, you need to make a bigger budget.
Youth side-by-side are the cheapest UTV because they have limited features and are not as powerful as sport or utility UTVs.
Utility UTV's price starts from $14,500, and the price can go above $23,000 depending on the features.
On the other hand, a four-seater side-by-side can cost you at least $15,000.
So, you need to choose the right type of UTV, considering your need and purpose of use.
Pros And Cons Of UTV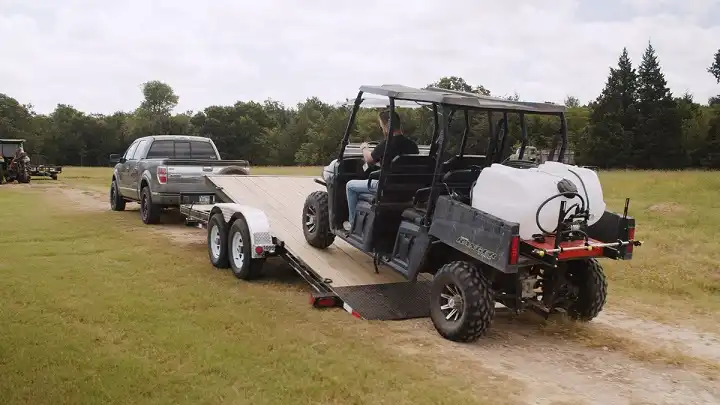 There are always some pros and cons of anything, and buying a UTV or side-by-side also comes with some advantages and disadvantages.
Here are the pros and cons of owning a UTV:
Pros of UTV
UTVs Are The Most Durable And Reliable Off-Roading Vehicle:
Reliability and durability are the keys to off-roading vehicles. The most important advantage of buying a UTV is that UTVs are very durable and reliable in any terrain.
UTV Is Easy To Handle:
Side-by-side controlled by the steering wheel just like cars, making it easy for riders to handle.
UTV Best For Recreation:
UTVs come with two to six seats which makes UTV the best vehicle for recreation in off-roading.
SxS Are Perfect For Heavy Duty Work:
Side-by-side is mostly used for work because they have a higher horsepower engine and rear cargo area. In the UTVs cargo area, you can carry working tools for any job.
UTV Has Higher Towing Capacity:
A side-by-side can tow over 2,000 pounds which is essential for hauling.
UTVs Are Significantly Powerful:
UTVs are very powerful because it's powerful engines and advanced features.
Useful Extra Features Of UTV:
You can find high-quality sound systems, electronic bed dumps, snow blowers, and more useful features side-by-side.
Cons of UTV
UTVs Are Expensive:
Before buying a UTV, you need to make a bigger budget because UTVs are expensive off-roading vehicles.
UTV Needs Bigger Parking Space:
Typical UTVs are 58 to 64 inches wide and 135 to 16 inches long; therefore, you need a bigger garage to store a UTV.
Many UTV Parts Are Made Of Plastic:
Although UTVs are very durable, some parts on UTV are made of plastic that fades over time.
UTVs Are Required Costly Repairs:
UTVs are full of various advanced features and parts. Over the years, you need to repair several parts. Generally, you are going to need around  $500 to repair your UTV per year.
Limited Options:
Manufacturers produce limited UTV models with little more extra features every year.
| Pros | Cons |
| --- | --- |
| UTVs are best for work | Parts are very expensive |
| Reliable and durable enough | The average cost of a UTV is over $13,000 |
| Good for recreation and utility | Need extra space in the garage |
| Various options for customization | Costly repairing and maintenance |
| UTVs can carry up to 4 passengers | Limited options to choose |
| Highly efficient and powerful engine | |
| Huge towing capacity | |
| Very easy to handle | |
| Cargo space makes UTV more suitable for work | |
Most Popular UTV brands
Yamaha, Polaris, Can-Am, Honda, Arctic Cat, and Kawasaki are the top and most popular UTV brands out there right now. And every UTV brand manufactures all types of UTV.
The six most popular UTV brands in 2022:
1. Polaris
Polaris is one of the most popular UTV brands as of 2022. Polaris is an American automotive manufacturer founded in  1954.
Polaris manufactures 2-seat, 3-seat, crew, youth, utility, and special editions of UTV. Polaris is also a reliable UTV brand.
Ranger is the most famous UTV model lineup from Polaris brand. Polaris Ranger SP 570, Polaris Ranger Crew 1000, and Polaris Ranger 150 EFI are the best Polaris UTVs.
2. Yamaha
We are very familiar with the name Yamaha because Yamaha is the world's famous motorcycle and UTV brand.
Yamaha is a Japanese manufacturing company founded in 1955. Yamaha Rhino was their first UTV that was designed to carry a driver and a passenger with rare cargo space.
Yamaha produces utility task vehicles (UTVs) for recreation, sport, utility, and youth.
Yamaha Viking EPS, Yamaha YXZ1000R SS XT-R, and Yamaha Wolverine RMAX4 1000 UTVs are common in the market.
3. Honda
Honda is also a publicly traded Japanese automobile company. Honda side-by-side is very popular all over the world.
Honda also makes the most durable UTV. They manufacture the most numbers of UTV per year.
Among various UTV models, Honda Pioneer and Honda Talon are both very famous.
4. Can-Am
Can-Am is the subsidiary of Bombardier Recreational Products (BRP) company.
Can-Am UTV brand makes UTVs for work, hunting, recreation, mud riding, and also winter.
The uniqueness and reasonable pricing help Can-Am side-by-side to stand out in the highly competitive off-roading vehicle market.
Maverick and Commander are the top Can-Am UTV models, and both models UTV is available to buy.
5. Arctic Cat
To UTV riders, another favorite and popular side-by-side brand is Arctic Cat. Arctic Cat is an American off-roading vehicle manufacturer founded in 1960.
For crew UTV, Arctic Cat has huge popularity. This brand makes performance or sport, utility, and crew UTVs.
Arctic Cat Wildcat XX LTD is the most popular sport UTV manufactured by Arctic Cat.
6. Kawasaki
Kawasaki is a well-known motorcycle company that also manufactures UTVs and ATVs.
Kawasaki SxS is famous for its top speed and tough performance. Also, the uniqueness of Kawasaki UTVs made this brand more fascinating to riders.
TERYX KRX is the UTV model lineup of Kawasaki brand. They have dealers all over the world.
What Makes UTV Different From ATV
Here is the main differentiation between UTV and ATV:
| UTV | ATV |
| --- | --- |
| UTVs are controlled by the steering wheel, just like cars. | ATVs are controlled by the handlebars, just like motorcycles. |
| A UTV is capable of carrying more than one passenger. | ATV is a single-rider vehicle. |
| UTVs come with rare cargo space and cargo boxes. | ATV does not have any cargo space. |
| UTV is equipped with foot pedals to accelerate and decelerate. | ATV has a thumb or twist throttle to accelerate and decelerate. |
| UTVs are mostly used for work, not too much for recreation. | ATVs are primarily used for recreation. |
| UTVs are expensive, and repairing is also costly. | ATVs are less expensive than the average UTV. |
| UTVs have four wheels, but some UTVs have six to eight wheels. | ATVs have only four wheels, not more than that. |
Is A UTV The Same As A Side-By-Side?
Yes, a UTV is the same as a side-by-side (SxS). UTVs are often called side-by-side (SxS).
In some areas, riders prefer to say SxS rather than UTV. In the United States, riders say both UTV and side-by-side.
So, you can call a UTV or side-by-side (SxS) both correct, and both have the same meaning.
Conclusion
The question of what is a UTV? should not confuse you anymore because, from this post, you already know everything about a UTV.
UTV has different specifications and purpose of use than any other off-roading vehicle.
Side-by-side (SxS) are often seen near the construction side and working area because UTVs are powerful and have higher towing capacity.
One downside of UTVs is that they are very expensive compared to other off-roading vehicles on the market.
But youth UTVs have reasonable prices, but youth UTVs are not ideal for any work or towing.
So, you must know the purpose of buying a UTV, and then you will be able to choose the right type of UTV for you.
Hey, I'm Calvin from Arizona. Living in Arizona makes me an adventurous and off-road enthusiast, I must say. Raiding ATVs, UTVs and Dirt bikes with my friends is all about me. And offroadlord.com is the way to let you guys know everything about off-roading.